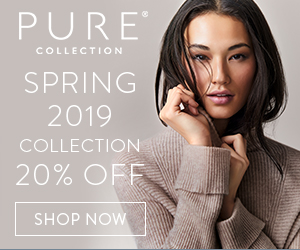 Following the finale of Fashion Week in London yesterday and in New York just a few days ago, now's the time to entice your readers with discounts on designer apparel from the Pure Collection (US) affiliate program. Known for their sensibly-priced cashmere and modern styles, this advertiser sells garments made to help women and men feel as terrific as they'll look in them.
Capitalize on these Pure Collection (US) spring fashion week savings now available on the FlexOffers.com network!
---
FlexOffers – $25 off orders of $125 or more
Get 25% Off The Collection Plus Free Shipping + Returns
---
Beige is all the rage right now and is rightfully represented at us.purecollection.com with a vast selection of soft cardigans and sweaters to fight off the occasional spring breeze. The site also sells scarves, snoods, and stoles that can complete new ensembles or add pops of color to old clothing combinations in need of an update. Any way your audience members look at it, this is the source for impeccable attire that they've been longing for.
Couples who are expecting, as well as well-wishers attending a baby shower in the near future, will absolutely fall in love with the cashmere infant clothing collection available from Pure Collection (US). Each tiny sweater and bootie is as incredibly soft as parents would hope they'd be, as are the adorable knit hats and mitts. If your site visitors can't decide which beautiful baby item to buy, they can't go wrong with opting for a cashmere blanket that will lull even full-grown adults to sleep.
---
Get 20% + $15 off Pure Collection's new Spring Collection now!
---
Aside from the runway shows that dominate the headlines of Fashion Week, your patrons can turn to the Style Diaries and blogs posted on us.purecollection.com as a source for inspiration. There, they can learn how to make fashion statements from expert editors with an eye for what's in, simplifying the selection process when deciding what to keep in their bag before checking out online.
The brand's digital look book is an impeccable showcase for their seasonal clothing sets and is reflective of many of the trends we've been in awe of during recent fashion shows in both New York and London. Striking prints and bold monochromatic options are on display, as are the soft, seasonal pastel hues that spring is known for. Give their look book a look yourself, and you'll see why the Pure Collection (US) affiliate program is such a smart option to promote right now.
---
---
Don't let these looks and deals pass your readers by; promote these and other discounts from the Pure Collection (US) affiliate program via the FlexOffers.com network today!