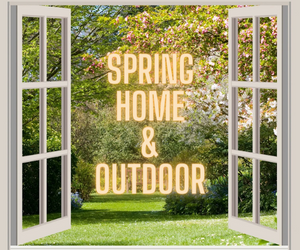 The weather is heating up, and so are the deals. FlexOffers.com has compiled a list of fresh deals that will help customers complete their DIY house projects and spring cleaning.
Promote these refreshing home and outdoor deals on your site now available on the FlexOffers network!
With spring in tow, customers may want to skip town for Spring break. Luckily, Ebags.com specializes in making functional, fashionable, quality luggage that helps create better travel experiences. When shopping at eBags.com, customers can save up to 50% off their order plus an extra 25% off Lodis products when they use the code BAGS25 at checkout.
Save Up to 50% Off Plus An Extra 25% Off Lodis with Code BAGS25 + FREE Shipping Over $49 at eBags.com
If homeowners are looking for professional help with their home improvement projects, they needn't look any further than Thumbtack. When browsing thumbtack.com, customers will be connected to local professionals prepared to help with any job. Whether it is anything from junk removal to repainting walls, Thumbtack helps homeowners fix, maintain, and improve their homes with professional help at affordable rates.
Want the price of pretty much any service? Thumbtack can help
At plantsexpress.com, customers will find a premier tree and plant supplier that delivers directly to their home. Plants Express offers an extensive selection of perennials, succulents, and other easy-to-install landscape plant packages to spruce up their lawn. At plantsexpress.com, customers can get all the gardening products they need and obtain free delivery with their purchase.
California's premier provider of plants, trees, and other garden products is offering FREE Delivery
When shopping at katchybug.com, customers can make their home a no-fly zone. Katchy is a stylish and effective bug catcher that eliminates pests in a safe, environmentally friendly way while blending seamlessly in any room. Customers can place Katchy in their kitchen to keep fruit flies away or in their backyard to ward off mosquitoes. Currently at katchybug.com, customers can obtain free standard shipping on all orders and enjoy a bug-free home this spring.
Free Shipping on All Orders
Pier 1 is dedicated to offering customers new furnishings and décor at a great price, and this spring, there are a plethora of fresh options. This season customers will be spending more time outdoors. To create a dreamy patio ambiance, Pier 1 carries beautiful outdoor lighting options, including solar powered string lights and battery-operated fairy lights. Customers can shop the Spring clearance sale on pier1.com for great deals while supplies last!
30% Off Lighting with code LIGHT30
Handy has professionals that can help with any renovation plans customers might have this spring. From home cleaning to handyman services, Handy instantly matches thousands of customers every week with vetted professionals in cities all around the world. For a limited time, Handy customers can take advantage of the discount code AFF30 for $30 off their first cleaning services booking!
$30 off your first cleaning with code AFF30
Customers can bring their DIY plans to life this season with Lowe's home improvement supplies. As one of the largest home improvement retailers in the world, Lowe's has everything customers need for any house project. Customers can reap great deals on décor, tools, and outdoor supplies this season on lowes.com.
Your Spring starts here. Find everything you need to make your Spring shine. Offer ends 5/18/22