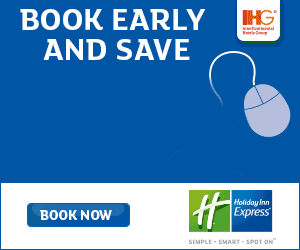 With the school year coming to a close, and business professionals in desperate need of a reprieve from work and home demands, now's the time to begin locking in summer travel plans. Whether organizing a family getaway or a romantic retreat, your patrons are certain to secure suites that suit their every need when they book through the InterContinental Hotels Group.
Don't miss your chance to capitalize on these refreshing InterContinental Hotels Group summer deals now available to promote on FlexOffers.com today!
---
---
Through the InterContinental Hotels Group affiliate program, your patrons will assuredly obtain lodging, domestic and abroad, that best complements their summer excursion. At IHG.com globetrotters can peruse over 5,000 hotels in nearly 100 countries, dedicated to delivering true hospitality to its guests. InterContinental Hotels Group is comprised of 14 brands that cater to visitors in their own distinct way, but its trademark comfort and ease remain present in each of its properties irrespective of budget.
College students looking to let their hair down this summer needn't look any further than IHG.com where they'll find the perfect temporary home in a myriad of tropical locations such as the Bahamas, Cancun, and Jamaica at a discounted rate. Customers can also locate IHG hotels for their trip by prioritizing parameters like distance from the local airport, waterpark, beach, and last but certainly not least – price. For a limited time, young scholars can celebrate the end of the school year and save up to 30% off all Holiday Inn properties around the globe when they book early.
---
---
By promoting the InterContinental Hotels Group on your site, the lovebirds among your audience can choose from a multitude of properties that afford them the opportunity to break away from the usual grind. Couples can reserve a room at the InterContinental Bora Bora Resort Thalasso Spa for 15% off the normal rate and spend time reconnecting through a unique blend of activity and relaxation. This beachfront hotel features a tranquil lagoon, scuba diving, an award-winning spa, and critically acclaimed cuisines guaranteed to help soulmates fall in love all over again this summer.
Families in search of a great time can also secure hotels that run parallel to their budget and vision for their dream vacation through the InterContinental Hotels Group affiliate program. Whether in search of nearby shopping for mom, golf courses for dad, or signature swimming pools and neighboring theme parks for the kids, adventurers will undoubtedly discover family-friendly hotels that make them feel welcomed and valued wherever they are in the world. IHG Rewards Club members will continue to be encouraged to make accommodations through IHG.com as they're eligible to earn up to 5,000 bonus points per stay. Summer vacationers can also redeem their points by reserving a room at any InterContinental Hotel or resort worldwide – with no blackout dates.
---

---
Capitalize on these and other captivating InterContinental Hotels Group discounts now available via FlexOffers.com!