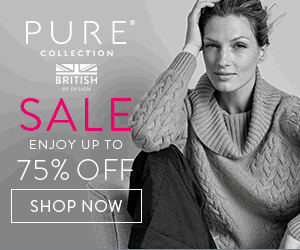 While New Year's resolutions are classically teeming with lofty goals and crazed ambition, it's wise for nine to fivers to guard against obligatory burnout by incorporating extreme comfort into their daily lives. By promoting the Pure Collection (US) affiliate program links on your landing page, your page viewers can treat themselves to handcrafted cashmere clothing and apparel that epitomizes softness, luxury, and timeless style.
Don't miss your chance to promote these Pure Collection (US) offerings at FlexOffers.com today!
---
Get 20% off Plus Free Shipping Over $150 in the Pure Collection sale!
Get $10 off when you spend $50 or more
You can now get up to 75% off Plus Free Shipping & Returns Over $150 in the Pure Collection Sale!
---
If your patrons New Year's resolution encompasses any standard deviation of improved self-care, then they needn't look any further than US.PureCollection.com to drape themselves in exquisite fabrics that promote confidence and inspire the fashionista within. Since its inception in 2002, Pure Collection (US) has provided sensibly priced cashmere clothing that makes its customers feel special and look terrific. Beginning with a mere 25 pieces, Pure Collection (US) inventory has rapidly expanded to over 300 captivating garments for men, women, and babies that facilitate sa eamless transition into the latest seasonal styles. Pure Collection (US) clothing is also suitable for shoppers with even the most aggressive New Year's pledge, as its combination of aesthetic appeal and ease permits pleasurable pursuit of their newfound dreams and aspirations.
Pure Collection (US) continues to grow its brand as a result of its expedience and affordability. For a limited time, your site visitors will receive $30 off when they tell a friend about Pure Collection (US). Each referred customer is also eligible to receive $30 off their first order, allowing them to experience Pure Collection (US) sumptuously soft cashmere in a wide range of styles at a discounted rate. Additionally, all US.PureCollection.com purchases from its "New Collection" are 20 percent off regular price and include free shipping on all orders over $150.
---
Get $30 off when you tell a friend about Pure Collection!
$30 off when you order $100 or more
Pure Collection Up To 60% off Sale and 25% off New Arrivals Plus Free Shipping on Orders Over $150
---
Pure Collection (US) inventory is constantly evolving in an effort to provide universally flattering attire that's equal parts fashionable and functional. Emblematic of its cutting-edge design and comfort is its washed velvet jean, comprised of two-way stretch fabric for an ultra-luxurious feel. Pure Collection (US) offers its washed velvet jean in three styles: straight leg, skinny trouser, and stretch crop trouser. The washed velvet jean is also offered in six colors that serve as a perfect accompaniment to Pure Collection (US) cozy, cashmere tops. While Pure Collection (US) signature cardigans are available in a myriad of vibrant colors, they're essentially a clean canvas that encourages fashion enthusiasts to layer their clothing with effortless sophistication during the winter months and beyond.
The allure of Pure Collection (US) cashmere is its soothing tactile feel that enhances the wellbeing of its customers and delivers a sense of calm in the midst of their day-to-day responsibilities. Pure Collection (US) sustainable cashmere stands head and shoulders above its competition as each sweater contain fibers from nearly eight goats compared to other cashmere companies that make their shirts using no more than four goats. Thanks to its "Perfect Color" method, which features the application of dye prior to spinning cashmere into yarn, Pure Collection (US) fabrics bear unsurpassed quality and color vibrancy that's beautiful to look at and wonderful to wear. Whether your readers' goal is to pamper themselves or find clothing that supports them through the rigors of their daily lives, Pure Collection (US) aims to provide them with cashmere suitable for every occasion.
---

---
Capitalize on these and other Pure Collection (US) discounts now available to market through the FlexOffers.com network!