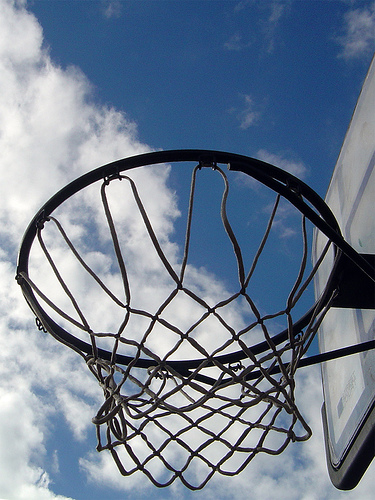 It's that time of year again, when college hoops rules the land and scores of fans get swept up in bracketology- a pseudo field of study that sportscasters and retailers alike have dutifully enrolled in during the height of playoff season.
You don't have to be a college graduate or even a student to join in the palpable excitement of watching teams from all across the country vie for glory. The madness has spread into the public mainstream, making the entire playoff season feel like an extended party atmosphere for fans and non-fans alike. Companies know how devoted people can be to their alma mater, so branded gear and watch party essentials have been pushed to the top of many online storefronts for fans to show their team spirit during every playoff game.
For website publishers, college basketball playoffs can be compared to other annual popular sporting events in terms of public interest and promotional opportunities. Even if some of your site visitors aren't versed in the details of the game, they understand what it means to be a part of the excitement around them- and so should you.
---
It's a Celebration!
Like any other sports-centric parties, hosts will be looking for all of the basic essentials they'll need for their guests to have a great time while watching college ball.
Affiliate programs like Walmart.com and Target.com are great resources for party supplies like plates, cups, and cutlery, and offer a slew of snacks and finger foods for keeping hungry fans at bay. Delectable dining options are also offered from programs like Omaha Steaks, or entire baskets of goods can be ordered from Shari's Berries and The Popcorn Factory. If certain game time snacks require preparation or heating prior to hitting the platter, Best Buy, Kohl's, and even JCPenney offers an array of appliances to help get the job done.
To incite playful electronics envy from those invited to big game watch parties, programs like Panasonic, Tiger Direct, and Dell Home & Office offer impressive HDTVs and home theater systems. There's nothing quite like experiencing a game from courtside, but witnessing the action in crystal-clear resolution with thundering audio is almost as good. Almost.
The Sixth Man
One does not simply watch college basketball playoffs. Big-time fans love to represent their favorite teams in apparel from head to toe, and there are numerous affiliate programs that appeal to those needs. Footlocker.com, Macys.com, and Adidas are loaded with fresh fan gear, as are previously mentioned programs like Walmart.com. Target.com, and JCPenney. No matter what team they're rooting for, your audience members can find the appropriate stylish clothing and accessories to show their support.
Buzzer Beater
Don't get left behind during the height of college basketball madness. If you haven't already considered a few of the aforementioned affiliate programs to advertise on your site while there's still hype, now is your chance to drive in a few extra sales. Just make sure you get that last shot off before the final game clock expires, or you'll have to wait until next year for your site to take part in the big dance.