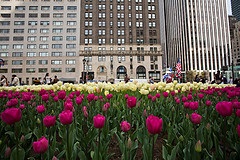 Traditionally recognized as a time of renewal, spring is the season in which many consumers contemplate changing their lives for the better. Flowers and optimistic shoppers are in bloom everywhere, making it a great time to promote positive products they're likely to love.
Dynamic publishers should strongly consider invigorating offers like the ones below from FlexOffers.com for their webpage today!
---
---
Healthful Options
Taking control of the factors that shape one's physical appearance is a popular theme after the winter thaw each year.
A leading manufacturer of high quality vitamins and supplements, Puritan's Pride has supplied anyone mindful of what goes into their system with discount products for decades. Their affiliate program is currently running a deal making them even more irresistible: buy 1 get 2 free on all Puritan's Pride brand products (valid 4/28-5/31/2014).
The Vitacost.com affiliate program connects people with tens of thousands of products from many of the health and wellness industry's leading brands. Those that shop their storefront can receive 65% off during their Last Chance Sale, which has many of their lowest prices EVER on over 700 healthy essentials.
For topical beauty goods, the PerfectlyPure affiliate program is practically a perfect choice. Radiant skin, healthy hair, and aromatherapy items can be attained for less during their Weekend Sale, granting 25% off plus free shipping (Perfectly Pure brand only, combinable) when customers enter code SHIMMER at checkout.
Seasonal Sonata
There are both natural and man-made songs that fill the air each spring, and FlexOffers can certainly help aspiring musicians carry a tune or two.
One of the world's largest music gear companies, the Musician's Friend affiliate program is great for both electronic and acoustic artists searching for deals on the accessories they need to steal the spotlight. Those ready to reach others will be thrilled to see that they can save 10% off Top Live Sound Packages when they enter coupon code: MAYLIVESOUND at checkout (5/1 – 5/31/14).
Through the Woodwind & Brasswind affiliate program, players in such orchestral sections can find some of the highest quality instruments sold anywhere online. Percussion and stringed instruments are also stocked, as are instructional books that can help teach classic and highly popular contemporary songs. The Semi-Annual Red Tag Sale at wwbw.com allows your patrons to save up to 56% on select accessories; I'd rush to promote that deal as it is valid for a limited time only (5/1 – 5/31/14).
Focusing on student musicians and parents, the Music & Arts affiliate program is ideal for young children who want to develop their skills. Parents needn't worry about the quality of the name brand instruments they can acquire for their little ones through MusicArts.com, and, for a limited time only, can receive $100 back with the purchase of any Yamaha Professional series instrument (4/1 – 6/30/14).
Seasonal Retreat
After the hustle and bustle of the holidays and renewed focus of the New Year, people everywhere are itching for an excuse to take a brief spring vacation. New York is a popular destination for prospective travelers domestically and abroad, and the NewYork.com affiliate program grants access to links for hotel reservations and memorable experiences. Tourists can catch a Broadway show while they're in the city and save over 30% on combo tickets for a NY SKYRIDE and the Empire State Building.
Don't let life pass your audience members by this spring; offer these rejuvenating bargains and others today from FlexOffers.com!