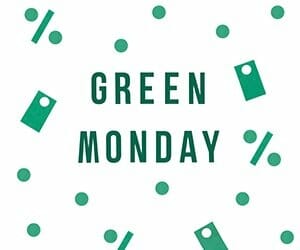 Waiting until the final hour to complete holiday shopping is a common practice among gift givers during the winter months. Fortunately, Green Monday serves as a perfect opportunity for individuals with Late Shopper Syndrome (LSS) to find last-minute discounts just before Christmas Day. If Black Friday and Cyber Monday came to an end before your site visitors could complete their shopping list, Green Monday gives individuals an alternative at the eleventh hour that grants them extreme savings on hot-ticket items. Reward Late Shopper Syndrome sufferers with Green Monday 2020 discounts via FlexOffers.com today!
---
Sometimes it's Great to be Late
Holiday sales are expected to grow anywhere from 3.6 to 5.2 percent in 2020. E-commerce events between Black Friday and Christmas annually account for one-fifth of retail sales and Green Monday just happens to be the biggest online shopping day in December. Green Monday takes place on the second Monday of the month which gives consumers at least 10 shipping days before Christmas. Cyber Monday is still the largest holiday shopping event in the U.S., and at CyberMonday.com, your page viewers can peruse Green Monday deals from over 800 retailers year-round. CyberMonday.com also features Cyber Monday shopping tips and discounts anywhere from 50 to 90 percent off the suggested retail price. Due to unforeseen global circumstances, the National Retail Federation (NRF) predicts that online and other non-store sales will increase anywhere from $202.5 billion and $218.4 billion from $168.7 billion in 2019. This 20 to 30 percent increase in online sales can be attributed to limited store hours and/or closures. Many participating CyberMonday.com retailers are also part of the FlexOffers Publisher Pro network. By coupling creatives contained in Publisher Pro with content on their landing page, publishers can be a procrastinating shopper's saving grace while simultaneously increasing their Q4 revenue.
What is Green Monday?
Green Monday is a relatively new shopping event that allows savvy retailers to offer customers with Late Shopper Syndrome one last opportunity to capitalize on holiday discounts before Christmas. This shopping holiday was designed to mitigate panic purchasing by fulfilling the needs of eleventh-hour shoppers at markdown prices. Not to be confused with Green up Day, Greenery Day, or any other eco-friendly holiday, Green Monday takes place December 14th of this year. Green Monday's sheer nomenclature was birthed by eBay and used as a descriptor for the busiest online sales day in December. The term green in Green Monday represents the amount of money consumers are willing to spend within the two weeks prior to Christmas. This online shopping event has only been in existence since 2012, but many have referred to it as Cyber Monday part 2 thanks to its substantial online sales. Last-minute shoppers are guaranteed to fill their online cart with items on their holiday wish list, which has perennially prompted retailers to promote Green Monday sales. Now publishers across the country can reward Late Shopper Syndrome sufferers with Green Monday 2020 discounts by registering FlexOffers.com.
The Allure of Green Monday Savings
Known as a celebration of procrastination, Green Monday continues to grow in popularity by allowing consumers to find bargains on brands they know and love, just before Christmas. In 2019, Green Monday netted over $360 million in online sales. Green Monday 2019 also brought forth an 18% increase in online shopping and a 12% increase in page views compared to 2018. This year's Green Monday sales and page views are expected to grow once again, as more customers are opting to shop safely in the confines of their own home. Despite holiday sales events beginning earlier with each passing year, patrons with LSS will assuredly be swept up in a late rush to acquire great gifts at prices that won't break the bank.
With about 60% of Americans poised to complete their holiday shopping online, here's why retailers and publishers alike should participate in December's largest e-commerce event:
Customers can bypass overcrowded stores and remedy their holiday shopping anxiety by taking advantage of Green Monday's last-minute bargains from home
Green Monday deals ushered in 48 million page views last year and will grow by at least another 12% this year
Allow FlexOffers.com to Support Your Green Monday Initiatives
If you're a publisher seeking measures to reward Late Shopper Syndrome sufferers by promoting Green Monday 2020 deals, then you'll certainly want to explore marketing options contained within FlexOffers' PublisherPro database. Registering with FlexOffers.com grants its members access to creatives and promotional strategies that aid them in their quest to become the vanguard among issuers of Green Monday retailers.
There are a variety of verticals that have seen marked growth in December as a result of Green Monday offerings. From 2018 to 2019, FlexOffers top categories (home loans, footwear, and toys and games) averaged a sales increase of 327%. Thanks to services designed to transcend store closures and limited store hours, publishers should still be encouraged to promote brands associated with the previously listed categories on their site.
Through CyberMonday.com, publishers will find popular Green Monday deals from a multitude of retailers. Its offers are complete with brands that apply not only to Cyber Monday but Green Monday as well. By observing which brands and bargains are most popular among consumers on CyberMonday.com, publishers can identify home loan, footwear, and toys and games retailers to market on their domain. By promoting top-performing brands on their site, publishers will have the opportunity increase their holiday earnings.
At FlexOffers.com, publishers can sign up for a FlexOffers Publisher Pro account to bolster their readership as well as their Q4 revenue through the utilization of creatives connected to profitable verticals. To uncover additional methods related to rewarding Late Shopper Syndrome sufferers with Green Monday 2020 discounts, publishers can contact their account manager at [email protected]. Through the help of a member of FlexOffers' experienced staff, publishers can become more proficient in their usage of tracking links and banners to increase web traffic and profit margins during the holiday homestretch.