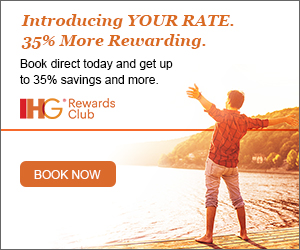 While summer is already winding down, the InterContinental Hotels Group affiliate program is making travel as affordable as ever. All it takes is a bit of foresight on your readers' part to plan the perfect vacation before classes get underway, and this is the outlet to do so through.
Make the most of these rewarding rebates from InterContinental Hotels Group via the FlexOffers.com network!
---
Live the Intercontinental Life
Pack the entire family! Save 10-30% on kid-friendly vacations.
---
Whether planning a trip across the country or a relaxing staycation close to home, IHG.com is loaded with affordable options. To encourage more bookings, IHG is rolling out the YOUR RATE promotion, which grants Rewards Club members savings of up to 35% off.
In addition to the steep discounts, the IHG Rewards Club also boasts a number of perks that are sure to convert a few clicks. Members can earn points with each stay that can be redeemed for free nights, enjoy free Internet access, and sleep in thanks to extended check-out times. There are no blackout dates for reward nights either, and should your site visitors find better rates elsewhere, the InterContinental Hotel Group's Best Price Guarantee makes their first night free.      
---
Taste the best of the city! Save 10-30% in foodie destinations.
Save 10-30% in Atlanta. Find trip ideas, hotel deals & more.
Save 10-30% in New York City. Find trip ideas, hotel deals & more.
---
Even if your audience members don't have little ones in tow, there are still countless trips that they can plan in the coming months through the InterContinental Hotel Groups affiliate program. Fans of foodie networks and gourmet cooking may find that the weeks at the tail end of summer and start of fall is the perfect time to get the best tastes of both seasons.
Booking rooms through IHG.com, even for just a weekend, can provide travelers with the chance to experience culinary thrills they'll be recounting the rest of their lives. There are numerous hotels in New York under their corporate umbrella that are a stone's throw away from some of the best restaurants in the world, for example. More adventurous palates can reserve suites in IHG resorts in Singapore, Mexico, and over 100 other countries worldwide. No matter how well-traveled your patrons are, there's always something new they can discover when they stay at an InterContinental Hotel Groups property.
---
---
Capitalize on these and other enticing promotions available from the InterContinental Hotels Group affiliate program through FlexOffers.com!