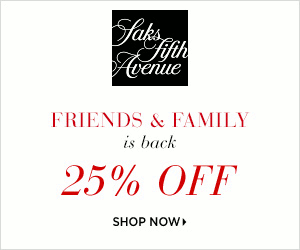 When your site visitors put away their winter coats in a few weeks, will they be ready to show off a new look, or just last year's leftover styles? By promoting the Saks Fifth Avenue affiliate program on your website, you'll ensure that your audience members will be clad in contemporary designer apparel that is sure to garner a few compliments.
Get shoppers' wardrobes ready for next season with these Saks Fifth Avenue spring makeover deals at FlexOffers.com!
---
Earn a gift card up to $700* with your purchase. Use code SAKSGC17. Online Only. Valid 3/20 – 3/21. Shop Now!
Jump Into Comfort! Up to 30% OFF* Select Bedding & Bath. Online Only. Valid 3/18 – 3/24. Shop Now!
Additional 20% OFF* Select Sale Items! Online Only. Valid 3/17 – 3/19. Shop Now!
---
The next wave of fashion-forward designer lines can be browsed and bought through SaksFifthAvenue.com's robust online storefront. Boasting an undeniable aesthetic appeal and bold pops of color, the articles available from labels like Scripted and MSGM can easily make their way into trendsetters' regular outfit rotations. Shoppers that tread outside of their comfort zone by incorporating these drop-waist dresses and ruffled shirts into their already eclectic wardrobe won't regret the decision.
Guys who want to dress and impress this spring can also overhaul their personal style with the clothing sold through the Saks Fifth Avenue affiliate program. Jackets and button-downs are stocked to achieve a timeless upscale look, but there are also quite a few items designed with a playful personality in mind. Among them are the Thom Browne Shark Embroidered Jacket and Shorts that are perfect for a dockside party, particularly when paired with the Shark Accented Flat Cap. It takes a confident individual to pull off the look, but doing so will definitely be a fashion milestone.
---
Something Everyone Will Love! Receive up to $250 OFF* your online purchase. Use code NEEDITNOW. Online Only. Valid 3/24 – 3/25. Shop Now!
Affiliate Exclusive! Take 10% OFF* Beauty & Fragrance during the Saks Friends & Family event. Use code SAKS10OFF. Valid 3/28 – 4/2. Shop Now!
Friends & Family is back! 25% OFF* spectacular selections of clothing, shoes & accessories. Plus, 20% OFF Jewelry. Valid 3/27 – 4/2. Shop Now!
---
After getting their closets in order, your web traffic should consider doing the same for the rest of their home. Thankfully, Saks Fifth Avenue also sells impeccably tasteful home décor pieces to elevate the look of any room they're strategically placed.
If your readers can't remember the last time they bought a new bedding set, chances are that it's about time they replace theirs. The same goes for bath towels, robes, and hand towels for the kitchen that gets grimy over time. Saks Fifth Avenue is touting discounts of up to 30% off select bedding and bath through March 24th, so now is an excellent time to replace those items.
---
---
Help fashionistas get set for spring by marketing these and other engaging Saks Fifth Avenue offers on your site via the FlexOffers.com network today!