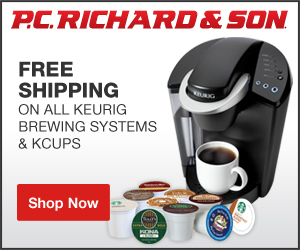 P.C. Richard & Son, which began over a century ago as a small hardware store in Brooklyn, New York, has grown to become the largest chain of privately owned electronics and appliance stores in the US. By embracing their core values of "honesty, integrity, and reliability," this stellar electronics company continues to expand its presence and thrive in an ever-changing tech landscape.
Join FlexOffers.com as we celebrate P.C. Richard & Son's 106th birthday with discounts too good to pass up!  
---
P.C. Richard 106th Birthday Sale – Our Biggest Appliance Sale in our History Is Back!
The New Bose Wave Radio: Available Now!
Whether outfitting their first home with appliances or updating a few pieces that have been around for far too long, your readers will love the name brand selection available through the P.C. Richard & Son affiliate program. Now is the perfect time to promote their links on your webpage as the steep discounts offered during their 106th Birthday Sale are sure to draw in bargain hunters of all walks of life.
Even if shoppers just want to get a head start on their winter holiday shopping by picking up a few small kitchen appliances for friends and loved ones, the prices are so low during this sale that it's actually a pretty smart move on their part.
Receive up to $125 PCR Gift Card on select LG TVs
Buy any Xbox One console and get NBA 2K16 FREE
Speaking of holiday shopping, PCRichard.com is one of the top options your patrons have on the web to browse and buy the year's most sought-after gifts sure to be on their list. HDTVs with crystal-clear picture and thundering home audio systems to enjoy sports and movies? Check. All of the hottest games on the most popular home video game consoles available? They've got those in stock, too. Should they even want to buy a holiday gift for the office or a potential business contact, P.C. Richard & Son sells expresso machines that would put your favorite pumpkin spice-slinging barista to shame.   
Don't wait any longer if you want to capitalize on all of the incredible deals currently offered during the P.C. Richard and Son 106th Birthday Sale.
Find these and other great deals to promote on the FlexOffers.com network today!