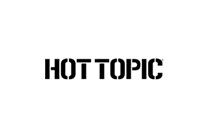 From the loudest recesses of the mall to your landing page, Hot Topic is the place to pick up band t-shirts and licensed merchandise for all of today's hottest pop culture properties. While they certainly appeal to the alternative culture crowd, Hot Topic has apparel and collectibles in stock from legacy brands like Disney, Marvel, Star Wars, Doctor Who, and Studio Ghibli that can excite fans of any age or demographic. If you're looking to add a burst of personality to your website, consider these limited-time deals from the Hot Topic affiliate program via  FlexOffers.com!
---
Get $15 Off Orders Over $60! Enter Code HTEXTRA15 at HotTopic.com!
20% Off Select Pop! Vinyl at HotTopic.com!
I can't stress enough how impressively diverse the pop culture offerings are at Hot Topic. Teens and young adults will likely fawn over the exclusive band shirts, patches, and hoodies they can pick up here just in time for an upcoming music festival. On the surrounding ends of the spectrum, young children and adults alike are going to love the colorful vinyl figures and collectibles available to adorn their shelves at home or in the office.
Hard rock, hip-hop, Harry Potter, or Hell Bunny; items for whatever fandom your readers are genuinely excited about are likely to be found at HotTopic.com.
Costumes to Die For! Shop Halloween at HotTopic.com!
20% Off Site w/code HEYAUTUMN at HotTopic.com!
FREE Batman Comic with Any Batman Purchase at HotTopic.com!
With fall upon us, Hot Topic also becomes an epicenter of activity for shoppers getting ready to celebrate Halloween. Sure they've got frightening masks and authentic-looking accessories in stock, but there are also a slew of costumes for superhero and sci-fi fans too. At what other single retailer can your web patrons find costumes based on the Teenage Mutant Ninja Turtles, Once Upon a Time, and inexplicable cultural phenomena like Sharknado?
The variety of music tees and pop culture products available through the Hot Topic affiliate program can help your site stand out this Halloween and all year long.
Promote discounts like these and others from the FlexOffers.com network today!