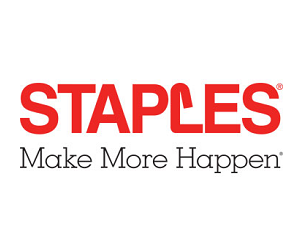 Whether stocking up for school projects or everyday business needs, Staples is the industry-leading source of supplies that your readers can rely upon. They've everything from basics like writing tools and stationery to data storage solutions, ergonomic office furniture, and much, much more.
Don't miss your opportunity to promote these enticing discounts from Staples via the FlexOffers.com network today!
---
Shop our Back to School Center!
$20 off Staples Plus one-year membership. Limited Time Only. Apply coupon code 11443 at checkout
Dell H815dw Cloud Multifunction Laser Printer for $199.99, Reg $429.99, Save $230 at Staples.com!
HP LaserJet Pro M130NW All-in-One Laser Printer for $99.99, Reg $139.99, Save $40 at Staples.com!
---
While the first school supply shopping rush for the year is over, parents know all too well that having a few extra items on hand at home will be beneficial in the long run. Anyone who has ever had to make a midnight run for construction paper or ink cartridges to help their kids complete a project due the next day (of course) will be eager to buy a few extra products from Staples if it means not having to shop in public in their pajamas.
At staples.com, everything that scholars need short of the semester's lecture notes can be found in the well-stocked Back to School Center. Items are organized by student grade groups there, which makes it easy for parents to navigate directly to the pool of products they'll likely need to buy. Even teachers have their own section on the site where they can kit out their classroom with colorful décor, lesson plan books, and rewards to keep their students motivated to make the grade.
---
Epson WorkForce ES-500W Wireless Duplex Document Scanner for $329.99, Reg $399.99, Save $70 at Staples.com!
It's not hard to make a difference. It's eco-easy. Find eco-friendly products at Staples®. Shop green now!
New Day. New Deals. Shop Staples Daily Deals for unbeatable prices and selection.
---
When working as either an independent contractor or part of a blossoming startup, making sure you always have the tools needed to impress clients is essential. By shopping the staples.com links you'll be placing on your landing pages, professionals can keep their supply closets filled with everything needed to help put them head and shoulders above their competitors.
Even in our digital age, showing up to a meeting with printed and bound presentations can be the difference between making a big sale or making a coffee run for the office. Through the Staples affiliate program, your patrons can pick up the latest high-end printers from name brands including Epson, Dell, and HP that will save them lots of time and money from their bottom line. Factoring in their selection of powerful desktops and mobile computing solutions, it's easy to see why so many small businesses trust Staples to get the job done so they can do theirs.
---
---
Make the most of these and other steep discounts from the Staples affiliate program, now available on FlexOffers.com!