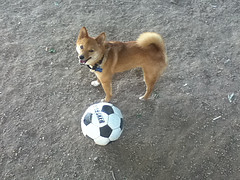 Fútbol fever is in full swing around the world, presenting more opportunities than ever for publishers to reach audiences on a global scale. Even if your website doesn't specialize in sporting equipment or apparel per se, there are still many ways to appeal to fans of the most popular sport around.
Take a look at these offers capable of converting even the rowdiest football club followers on the FlexOffers network!
---
---
Eat Your Vitamins
Aside from regular practice and lots of sleep, what athletes put into their bodies can make a huge difference in their performance on the pitch.
The Puritan's Pride affiliate program can connect your audience members to one of the leading manufacturers of high quality vitamins. They've been selling supplements and healthy foods to satisfied customers for decades, giving them the energy they need to perform at their peak. Those who shop PuritansPride.com now can receive free shipping on any order $25 or more when they enter code SHP2YOU at checkout.
Another great option for pure and potent vitamins is the naturesorigin.com affiliate program, whose products are GMO-, gluten-, and radiation-free. Their storefront stocks items specially formulated with certain concerns in mind, such cardio health and joint pain. Customers on naturesorigin.com are eligible for 25% off any order and free shipping when they enter code NATRORG at checkout (valid now through 6/23/2014).
Although some athletes may not consider it a pressing concern, taking care of one's skin can prevent damage and discoloration years down the line. This is precisely where the Perfectly Pure affiliate program excels, as they sell high quality products that can cleanse, protect, and even rejuvenate the skin while being paraben- and cruelty-free. Entering code BEAUTY5 at checkout on PerfectlyPure.com currently grants $5 off $25 Perfectly Pure brand purchases and free shipping.
Funding a Future Superstar
There are many things on the minds of up-and-coming football icons, but the stress of overwhelming financial woes doesn't have to be one of them.
With the Gerber Life Insurance affiliate program, your audience members can choose between $5,000 and $50,000 of coverage with the Gerber Life Grow-Up® Plan, which has low childhood premiums that never increase and coverage that automatically doubles with no increase in premiums during age 18. These policies can serve as emergency funds that children may borrow from later on, and give opportunities to buy more coverage as an adult. If parents apply for the Gerber Life Grow-Up® Plan now, they'll will even receive a free gift.
Parents wanting to save on computers to store and share videos of their children's fancy footwork will love shopping the HP.com affiliate program. They're one of the world's leading PC manufacturers and have been trusted by for years due to the processing power and reliability of their laptops, desktops, and tablets. Consumers on HP.com can save 15% instantly using coupon code POPULAR15 for the purchase of configurable HP Laptop and desktop PCs $799 or greater at the HP Home & Home Office Store (valid 06/15 through 06/21). 
Footy Fun
Sometimes it takes a bit of creativity to bend the bargains in your favor, but with a little practice your site can start scoring big in no time. Consider promoting these and other football-friendly products available via FlexOffers.com today!