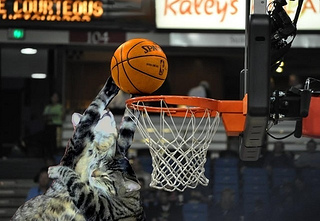 When the best of the best come together, audiences are often left in awe. The same can be said if you make the right promotional plays with a key collection of advertisers on your site.
FlexOffers makes it easy for publishers to put together a prime roster of amazing advertisers and deals to help them score big. Take a look at this impressive lineup of all-star promotions now available from FlexOffers.com!
---
---
Posh Post-Game Garb
Playing well is only part of what it takes to become a true superstar; the elite know you also need to dress exquisitely at all times too.
Leading retail department stores are known to consistently impress with their savings skills. Case in point: the JCPenney and Bloomingdale's affiliate programs. Among their other popular promos, JCPenney is allowing patrons to get an extra 15% off select apparel, shoes, accessories, fine jewelry & home purchases in store and online, or save 20% on select purchases of $100 or more online only at jcp.com when they use code FEBSAVE3 (offer valid 2.19 – 2.23, some exclusions apply). Also making waves, the Bloomingdale's Baby Sale lets customers take 20% off when they spend $75-$149.99, or take 30% off when they spend $150 or more on almost all regular-price infant merchandise at Bloomingdales.com (offer valid February 13-February 23, 2014).
Not to be outdone in the fashion scene, there are also offers from clothiers like ASOS, whose virtual storefront, ASOS.com, serves as one of the UK's largest independent online fashion and beauty retailers. There are thousands of name brand products and clothing lines added each week, and they encourage your web traffic to get inspired this season and check out what some of their favorite celebs are snapping up from ASOS before it sells out. Those on the scene are also likely to purchase a few pieces from the House of Harlow affiliate program. With Nicole Richie as this fashion retailer's creative force, buyers on the site can currently get up to 70% Off All Ready To Wear (valid though 2.20).
Fashion, music, and art fuse together at Metro Park USA, which gives indie clothing and accessory designers an outlet for their wares and creativity. Despite the distinct credibility, one can still manage to shop plenty of under $50 selections at Metro Park and save. The Avenue affiliate program is announcing the return of favorite flattering fashions for plus size women as spring shoes & accessories are at buy one, get one 50% off at Avenue.com!
Those wanting to add a bit of flair to their wear should check out the Ashford affiliate program, which currently features 15% off Bulova Watches + Free Shipping (excludes sale items) when they use coupon code: AFFBVA15 (Expires: 3/4 at 11:59 pm). Anyone more certain of their relationship's present and future after Valentine's Day might want to shop Ice.com, which has free shipping on engagement rings. If you'd rather walk in comfort than get swept off your feet, the FootSmart affiliate program is featuring $10 OFF boots, shoes & slippers when your product total is $60 or more (brand exclusions apply, excludes Clearance & Smart Buys, see offer for details).
Around the World
Though some may consider traveling a foul, the real travesty would be to miss out on deals from the travel industry's most impressive players.
Mainstay vacation booking sensation Orbitz lets prospective travelers save 15% with promo code: PACKUP (valid 2/1/14 – 2/23/14), and bargain hunters on Priceline can receive Express Deals on hotels up to 55% off with NO bidding. When the logistics of booking hotels for multiple people at once become a cumbersome task, the ShareTrips affiliate program is the answer. Customers can save with their top promotions and try ShareTrips' new screen sharing technology to save time and money at ShareTrips.com. Meeting multiple peoples' travel needs at once has never been this interactive and easy.
Full-Court Promotional Press
Drafting the right picks can make or break your entire season, but these championship quality promotions are sure to help lead you to victory. Think strategically, play aggressively, and make the most of these deals from FlexOffers.com today!