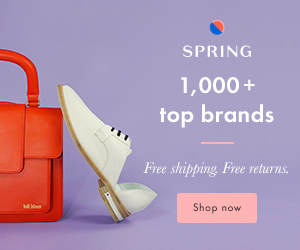 Boasting an inventory of over 1,500 fashion, beauty, tech, and home décor brands your readers already know and love, the Spring affiliate program is an exceptional marketing option to consider for your site. Factor in their free shipping and world-class customer service, and it's easy to see why so many people turn to the retailer for key product purchases to upgrade their lifestyle with.
Take a look at the Spring savings available to promote on the FlexOffers.com network today!
---
Limited time Refer a Friend offer: Give $20, Get $40!
Get 4% cashback on almost every purchase on Spring!
---
Whatever the season or reason, shopspring.com carries the contemporary clothing your web traffic is looking for. They've everything from Dolce & Gabbana floral dresses to sweatpants from Alexander Wang and signature Steve Madden wedges. Anyone with big spring break plans will also be able to look their best as the outlet has thousands of designer swimsuits ready to ship.
Men who haven't a clue about modern fashion can search through the Spring affiliate program's offerings for the latest looks sure to garner compliments from others. Curated collections of seasonal wear are listed on the retailer's site to make shopping as easy as can be, grouping together garments that work for the weekend, while out for drinks on the town, or during other social situations. It's a dream come true for the uncoordinated who will undoubtedly appreciate the style guidance.
---
Bobbi Brown 25% Off Shopwide for a Limited Time Only!
Bobbi Brown 25% off Shopwide + 12% Spring Cashback for a limited time only!
Shop over 1500+ brands only on Spring!
---
After updating their outerwear, your patrons can also turn to the Spring affiliate program to clean up the look of their living spaces. The same website where customers can order head-turning heels also stocks seats that better resemble modern art installations than the ergonomic chairs they are. Dining room tables, mattress toppers, and other relatively big-ticket domestic purchases can also be made here.
When it comes time to outfit an office, Spring brings everything into focus. High-end accessories for working professionals from the likes of Gucci and Salvatore Ferragamo are sold alongside quirky photo calendars and printing calculators that appear to be from another generation. Best of all, they'll all earn your readers a few extra likes when posted on their social media pages (ironically or otherwise).
---
---
Don't miss your opportunity to promote these engaging savings from the Spring affiliate program, now on FlexOffers.com!