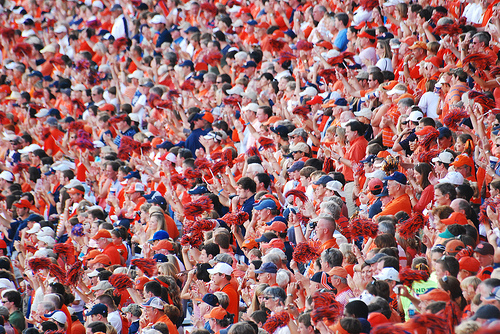 Even though summer is winding down, college and professional sporting events are just beginning to heat up. Whether your site visitors' team is vying for a playoff spot or gearing up to get back on the gridiron, both college and professional sporting events are a big business. You don't need to be a multimillionaire team owner in order to see some potentially positive results: you just have to promote a few key affiliate programs on your website.
---
Promoting Tickets Online: Better than "I Know A Guy"
Nearly as intense as some of the classic rivalries between athletic teams are sports fans themselves, many of whom regularly invest in tickets to multiple games each year to root for their favorite home team. This gives you an opportunity for a few extra click-throughs if you promote a sporting event ticket affiliate program on your page.
There are plenty of affiliate programs who specialize in the sale of tickets for sporting events across the country, and promoting them on your webpage grants you a chance to prosper from ticket sales on nearly a weekly basis. Better still, many of these affiliate programs specialize in the acquisition of hard-to-find tickets. No matter what sport, there are loyal fans who stick by their teams (even through century-long losing streaks) and will gladly purchase tickets to have the opportunity to say "they were there."
Even when the season ends, many sporting event ticket affiliate programs also offer seating at concerts and stage plays. As such, many programs have the ability to grab your web traffic's attention when they realize they'll have the opportunity to see their favorite star when they next come to town.
Promoting Fan Clothing and Merchandise: Gearing Up
If you've ever been enveloped in the ecstatic roar of the crowd at a sporting event, then you already know what it means to be surrounded by fans proudly wearing their team colors. Some people consider proper team representation to be an honor and a legacy to uphold, and will go to great lengths to make sure they have the right gear to wear on game day.
This presents the opportunity to promote fan gear and sporting good affiliate programs on your website, where individuals can spend money on everything from officially licensed hats and jerseys to drink coolers and folding chairs that show their support for their favorite team.
Catering to Your Fan Base: Becoming the 12th Man
Many sports fans are willing to spend their hard earned money to support their favorite teams by attending games and purchasing entire outfits of branded gear, no matter how dire the economy. In order to see positive progression on your site from this fandom though, you need to promote the proper appropriate affiliate programs and represent your team with pride- only then will you be able to score.