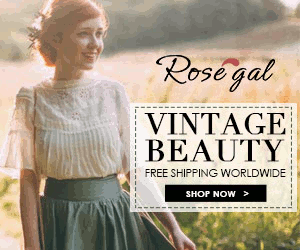 The global online fashion store of your audience's dreams, Rosegal's vintage apparel is more affordable than ever this season. This outlet also stocks classy styles for women and men, making them appealing to young adults with a variety of tastes.
Capitalize on the latest trends by promoting seasonal fashion deals from Rosegal via FlexOffers.com!
---
Casual Stand-Up Collar Short Sleeve Plaid Loose-Fitting Women's Blouse
Charming Round Neck 3/4 Sleeve Floral Print See-Through Dress For Women
Plus Size Lace Patchwork Peasant Blouse
---
It's exceptionally easy to appear unique and chic when you shop through the Rosegal affiliate program. Sure the storefront stocks comfortable hoodies that can be worn to class or on a winter workout, but their selection of inexpensive runway-quality jackets and other garments are where they truly shine. For less than the price of a single winter coat from a boutique store, your site visitors can makeover their entire wardrobe at Rosegal.com.
Speaking of unique, Rosegal.com also sells jewelry pieces that add instant personality to any outfit. Charm bracelets, rings, and bold body jewelry selections are but a few of the options available.
---
Comfortable Multicolor Knitted Mermaid Tail Design Blanket For Adult
Fashion Stripe Knitted Mermaid Tail Design Blanket For Kids
Stylish Drawstring Style Knitted Mermaid Design Sleeping Bag Blanket
---
Even if shoppers already have their winter wear in order, Rosegal remains an inexpensive source of clothing all year long. Their swimwear is sure to turn heads at the shore, though cover-ups are also sold for women that prefer a more modest look. Men's swimming trunks in both simple and vibrant patters can be purchased here, too.
Beyond their closet, the Rosegal affiliate program can also aid your patrons in turning their home or dorm room into an impeccably stylish space. They've knit blankets in the shape of a mermaid's tail, charming holiday pillows, useful kitchen tools, and a whole lot more than customers will soon be unable to believe they were ever without.
---
---
Help elevate the look of your landing page with these discounts on contemporary apparel from the Rosegal affiliate program through the FlexOffers.com network today!