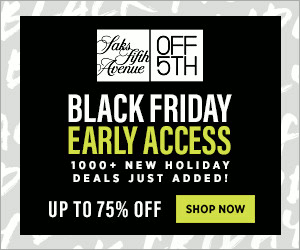 The Saks Off 5th affiliate program is a superior marketing choice for publishers whose audience loves to dress well without spending a fortune. Make the most of these season's savings from Saks Off 5th now available on the FlexOffers.com network!
---
BLACK FRIDAY IS HERE LIMITED-TIME DEALS UP TO 85% OFF* Shop Now! Valid 11/23-11/27
BLACK FRIDAY EARLY ACCESS STARTS NOW! 1000+ NEW HOLIDAY DEALS JUST ADDED UP TO 75% OFF* Shop for HER. Valid 11/16-11/22
BLACK FRIDAY EARLY ACCESS COLD WEATHER FAVORITES STARTING AT $59.99 $198.00 & UP Shop for HER. Valid 11/16-11/22
---
Though they're always an affordable shopping option, Saks Off 5th is even more engaging now as many of their Black Friday bargains are already live. Whether shopping for a single sweater or an entirely new wardrobe to wear during holiday parties, this outlet has the designer women's and men's apparel that your readers will want to wear. At discounts up to 75% and even 85% off, these links will convert quite a few clicks on your landing pages.
In addition to the incredible values at SaksOff5th.com, the site's huge selection will do wonders for drawing shoppers in. Over 1,000 new holiday deals have just been added, from discounts on skinny jeans to puffer jackets and more. They even have promotions on children's apparel and storybooks to make bedtime more enjoyable for the entire family.
---
BLACK FRIDAY EARLY ACCESS WORLD OF VERSACE Shop amazing low prices on handbags, dress shirts and more! Shop for HIM. Valid 11/16-11/22
EXTRA CUT BUY 1, GET 1 50% OFF* Select Clearance Styles USE CODE HALFOFF Limited time only. Shop for HER. Valid 11/17-11/20
SPOT THE STEALS TAKE AN EXTRA 15% OFF* USE CODE SPOTIT Select Styles Shop Now. Valid 11/21-11/22
---
When it comes to filling out holiday wish lists, some of the very best designer apparel and accessories can be bought through the Saks Off 5th affiliate program. The joy that opening gifts from Versace, Jimmy Choo, Yves Saint Laurent, and other international icons will bring will be a treat for recipients, as well as those who gave them. No one needs to know that these high-end garments were bought at immense discounts; that little secret can stay between your readers and Saks Off 5th.
Speaking of secrets, your site visitors can take this opportunity at SaksOff5th.com to build up their wardrobe for the new year. If they happen to be starting a new job or wish to reinvent their look, purchasing a few reduced-priced cashmere pullovers or suit separates at buy one, get one free from Saks Off 5th will do the trick. Just as with holiday gifts from this outlet, no one needs to be the wiser. All that others will notice is an impeccable sense of style.
---
---
Help your web traffic look great for less this holiday by promoting these enticing Saks Off 5th deals via FlexOffers.com!