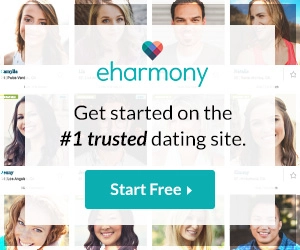 Whether the singles among your audience are embracing their independence or seeking companionship, they can all derive equal satisfaction from a wide range of Singles' Day offers. Help bachelors and bachelorettes live out their Singles' Day fantasies by promoting these sensational Singles' Day Discounts now available on the FlexOffers network!
---
If your page viewers experience existential dread at the prospect of visiting family members during the holidays due to questions about their dating life, then they'll certainly want to visit eHarmony.com. Every 14 minutes, someone finds love on eHarmony.com, which increases the probability of its subscribers making lasting connections that extend beyond Singles' Day and into the holiday months.
Save 10% during Singles' Day with code 'HONEY10'
---
It's not uncommon for singles to enjoy a night out on the town during Singles' day and through the JCPenney affiliate program, fashionistas can purchase clothing that allows them to stand out from the crowd. At JCPenney.com, customers can peruse a wide range of clothing options by brand, type, color, and more to find the perfect attire for their Singles' Day outing.
---
Irrespective of your site visitors' relationship status, they'll assuredly want to put their best face forward at all times, and through the Clarins affiliate program, they'll be allowed to do just that. Clarins offers makeup, as well as face and body solutions suitable to address a variety of skin concerns. Clarins.com also provides consultation, to help beauty enthusiasts find a skincare regimen to maintain or bolster their aesthetic appeal.
Receive Free Shipping and Three Free Samples on any $75 Order at ClarinsUSA.com
---
While some pet parents may be single, their dogs most certainly love and adore them. Now's the perfect time for dog owners to reciprocate their precious pup's undying affection by investing in their overall wellness. Emblematic of Petco Animal Supplies' pet care products is its flea and tick solutions for dogs, guaranteed to keep dog owners and their pups free and clear of parasites year-round.
Up to 45% Off Flea and Tick Solutions For Dogs
---
Cracking open a good book or binge-watching a new television series this Singles' Day can make for quite an enjoyable evening. However, your web traffic can enhance their night of relaxation with vinos from Wine.com. With a Wine.com subscription, shoppers will be granted access to over 10,000 refreshing beverages available to be delivered directly to their front door just in time for their private Singles' Day party.
Save on Top Rated US Wines under $20 at Wine.com!
---
Singles' Day comes just a month after Treat Yo' Self Day, and if your readers are still feeling the residual effects of the latter mentioned holiday, then they needn't look any further than Allurez. Allurez features a myriad of elegant, rare pieces capable of garnering attention wherever your patrons may travel. Allurez.com also affords singles the option to pamper themselves even further by designing a one of a kind piece that directly reflects their unique sense of style.
Allurez is committed to providing you with the largest selection of fine designer jewelry.
---
Market these sensational Singles' Day Discounts on your landing page via FlexOffers.com today!