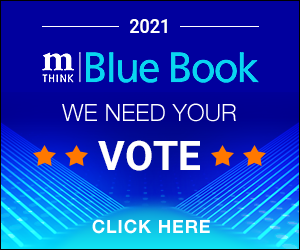 The 2021 mThink Blue Book Top 20 CPS Network Survey has gone live and is now readily accessible to all publishers and advertisers. We at FlexOffers.com sincerely hope we have done our part in securing the vote of our affiliate partners by maintaining the highest level of excellence!
---
This year there are two links to track publishers and advertisers separately. If you're a publisher who has benefited from our database of over 10,000 brands that successfully complement your content, please show your support by voting for FlexOffers.com through the 2021 mThink Blue Book Publisher Survey. Advertisers who have enjoyed growth opportunities by way of its partnership with the FlexOffers team will also be afforded space to vote for FlexOffers.com as their favorite affiliate network via the 2021 mThink Blue Book Advertiser Survey.
While 2020 has brought forth a bevy of unique challenges, FlexOffers has remained steadfast in its yearly commitment to providing publishers and advertisers with new tools that help them achieve the very results they seek. Emblematic of FlexOffers' devotion to supreme service, our expert team of affiliate managers are always on-hand to help our partners identify and explore potential growth engines. Our experienced staff also takes great pride in sustained client assistance. By keeping a finger on the pulse of its customers' needs and new trends, FlexOffers is willing and able to develop strategies that transcend new developments within the affiliate marketing sphere. By supporting FlexOffers.com with your vote in the 2021 mThink Blue Book Top 20 CPS Network Survey, publisher and advertisers can promote the advancement of vanguard, affiliate marketing practices that work.
Please take the time to let us know if you enjoyed working with the FlexOffers team by voting for FlexOffers.com in the 2021 mThink Blue Book Top 20 CPS Network Survey.
Every vote counts, and we truly appreciate yours.
Your Time| Your Voice| Your Vote