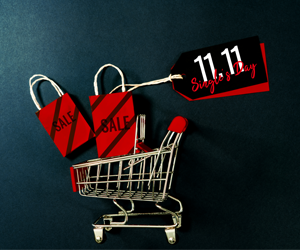 Singles Day is nearly a month away, and now's the perfect opportunity for publishers to begin gearing up for the world's largest 24-hour e-commerce event. Through the FlexOffers.com Publisher Pro database, publishers can promote new products launched around or on Singles Day. By utilizing FlexOffers tracking links, a publisher's domain can effortlessly be transformed into an authority on fresh new offerings for Singles Day and beyond. Capitalize on Singles Day 2020 insights and predictions by signing up for a Publisher Pro account via FlexOffers.com
---
What is Singles Day?
Originally named Bachelor's Day, Single's Day was started by China's Nanjing University students in 1993 as a satiric response to Valentine's Day. Single's Day always falls on November 11 as the date 11/11 can easily be interpreted as four singles standing together. This day has since become an intercultural event fraught with Singles Day sales and promotions from reputable retailers around the globe. Black Friday is classified as one of the biggest shopping days in the U.S., but Singles Day sales have grown to anywhere between two to four times its size. There is no doubt that Singles Day serves as a prime opportunity for shoppers to engage in retail therapy. However, publishers can also benefit from Singles Day by marketing relevant promotional materials on their webpage. Here are a few concepts to facilitate publishers experiencing a happy Singles Day.
Singles Day Best Bargains Content
Producing content containing top deals and bargains tends to enhance web traffic for publishers – especially during Singles Day. By signing up for a FlexOffers Publisher Pro account, publishers will gain entry to over 12,000 brands and 500 million products capable of being linked to their site. Publisher Pro offers promos for virtually every category imaginable. Marketing tools found in Publisher Pro can certainly help publishers successfully author commerce-loaded pieces featuring substantial Singles Day savings. Employing such a strategy is a great way to pique customer interest and aid publishers in their quest to yield a greater monetary return. Bear in mind that constructing content at least a month prior to a significant event such as Singles Day affords publishers the opportunity to improve their rankings on popular search engines while potential patrons peruse the net for new sales.
Target a Specific Audience
In order to target verticals that bolster click conversion rates, publishers can add content to their site containing brands and products their audience members are guaranteed to love. FlexOffers' Publisher Pro permits publishers to find marketing materials unique to their site visitors' interests. By becoming a member of the FlexOffers affiliate network, publishers will be privy to promotional tools, such as tracking links and banners that highlight a plentitude of Singles Day offers.
Leverage Transferable Processes from Other E-Commerce Events               
Publishers who have produced content resulting in fiscal success during auspicious occasions like Black Friday, Cyber Monday, and Green Monday would be wise to apply the same tactics during Singles Day. Content written to complement e-commerce events and holidays have traditionally brought publishers increased traffic to their site. Through strategic placement of Singles Day links and banners, publishers can elevate their earnings by participating in this e-commerce goldmine. Over the last three years, Singles Day has logged an average of $31.4 billion in sales and its numbers are expected to continue flourishing due to rapid international expansion.
As a result of its promising popularity Singles Day has become trendy topic among commerce content writers. Publishers seeking measures to make their content stand out in a sea of Singles Day articles can contact their account manager or reach us at [email protected]. Through guidance from our experienced staff and the utilization of tools found in Publisher Pro, publishers can procure Singles Day 2020 insights and predictions that allow them to keep pace with global shifts in commerce content.