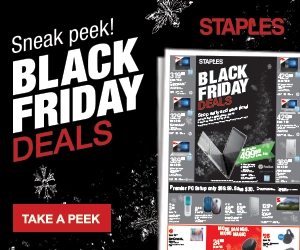 If optimizing budget and enhancing in-home entertainment and/or office solutions is chief among your audience's priorities during the holidays, then you'll certainly want to market the Staples affiliate program on your site. While budgetary constraints can put a damper on this winter's special occasions, Staples offers laptops, writing tools, ergonomic office furniture, industrial office equipment, and more, at discount prices to help keep consumers operating in the black.
Don't miss your opportunity to promote these enticing Sneak Peek Black Friday deals from Staples via the FlexOffers.com network today!
---
Black Friday Sneak Peek at Staples.com!
Save $30 on Toshiba 750GB Hard Drive
Save up to 10% when you buy Ink & Toner multipacks at Staples®. Shop now!
---
Staples' commitment to delivering industry-leading office products has enabled them to expand their reach and supply your patrons with not only the tools to complete personal and work-related tasks, but merchandise that ensures their unbridled excitement. Through its sneak peak Black Friday deals, customers can bypass crowded stores and never-ending lines, oftentimes considered the scourge of Black Friday shoppers' existence by ordering discount entertainment tech devices online on Thanksgiving Day. Whether your site visitors complete their online purchase before or after the Thanksgiving turkey is served, their items will be ready for in-store pickup the very next day, as early as 7am.
While perusing Staples' Black Friday deals, your readers will find discounts on Google Chromecast and Amazon Fire TV Stick modules that allows them to stream their favorite shows, movies, and music. They'll also enjoy savings of $330 off HP Pavilion laptops powered by an Intel® Core™ i7 that encourages multitasking whilst keeping tech-savvy individuals productive and entertained throughout the day. If your web traffic is comprised of business professionals, or even business owners, then they needn't look any further than its concessions on an assortment of office products and premium services such as printing and promo, IT, security, maintenance, furniture assembly and beyond. Staples also has a price match policy, which matches any competitor with an online or physical retail store.
---
$15 Off your HP Ink purchase of $75 or more
Original HP Cartridges at our lowest price. Ink starting at $9.99!
Take $25 off the purchase of a case of Hammermill 8.5″x11″ CopyPlus copy paper! 10 ream case, limit one case per customer.
---
Irrespective of its ability to rapidly grow clientele through fresh, new offerings, Staples' staple has always been its ability to provide office solutions that don't break the bank. Emblematic of its expedience and affordability is its ability to service venues as wide ranging as hospitals and retails stores, to construction sites, and school campuses. As jobs become increasingly more demanding, Staples enables nine to fivers to complete check lists by granting them the requisite tools to help them make more happen. After 30-plus years of assisting weekday warriors in their quest to enhance productivity, Staples has continued to upgrade its visibility through convenient shopping aids such as it's "Shop Online Anytime" feature which permits your page visitors to shop however, they want, whenever they want.
Whether attempting to cut cost on office supplies or digital tech for professional growth or personal enjoyment, it's plain to see that Staples is the place to be when fulfilling holiday wish lists. Even the most budget-conscious shoppers among your audience will be enticed by Staples' television inventory which includes top brands such as LG, Samsung, and Vizio for under $1,000. Customers can also save over $100 on single pedestal desks and office chairs that optimize their comfort while on a business call or enjoying leisurely reading for self-edification. Regardless of applications, your patrons will be encouraged to capitalize on Staples' sneak peek Black Friday deals that help them achieve anything they desire.
---

---
Capitalize on these and other sneak peek Black Friday deals from Staples now available to market through the FlexOffers.com network!