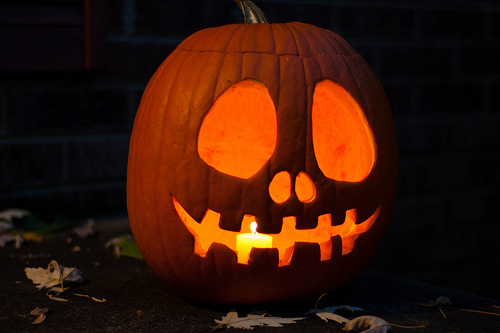 A fun-filled day for kids and adults alike, Halloween has become big business over the years for companies who want to cash in on the hype. Even in tough economic times it doesn't necessarily cost much to participate in Halloween, making it quite popular among consumers on a budget with a bit of ingenuity.
Whether hosting a blowout bash or planning to parade around the neighborhood with friends and family, your site visitors will be thrilled to see the deals retailers have in store for them this Halloween. Take a ghoulish gander at these limited-time promotions now live on the FlexOffers.com network!
---
Monster Squad
One of the few times of the year that many parents actually encourage children to dress up as their favorite superheroes in public, Halloween can fill otherwise dull cul-de-sacs with cavalcades of kids in costumes on the hunt for candy.
There are plenty of go-to retailers for both contemporarily cool and timelessly classic disguises, including Costume SuperCenter, Official Costumes, Costume Craze, and BuyCostumes. These sites all offer a serious selection of creepy and popular licensed character costumes in a broad range of sizes, any one of which can surely appeal to the pickiest trick-or-treaters.
Those who think a bit outside the box when putting together their get-up for Halloween might want to take a look at some sites not necessarily synonymous with frightful finds. ThinkGeek is currently offering savings on a number of props that could perfectly compliment a costume, as is the popular online sports entertainment superstore WWEShop.com. Adults who want a bit more exciting outfit for an unforgettable party should check out what AdamEveToys.com-Discreet Adult Toys for Men and Women! has in store.
Sweet Treats
The ire of parents stuck with preposterous dental bills, Halloween is also the time for tasting delightful delicacies and irresistible candies.
A collection of confections from 1-800-BASKETS.COM might suffice the sweet tooth of a haunting houseguest, as will a few snacks from The Popcorn Factory. For elegant edibles, the zChocolat.com affiliate program offers artisan chocolates that melt so perfectly on the tongue you can taste them from beyond the grave.
For something else equally enjoyed by palates of all ages, you can't go wrong with an order of Jelly Belly jelly beans. Sure you can buy your standard kaleidoscope of classic fruit flavors, but there's lots of fun to be had by passing out odd-tasting jelly beans reminiscent of stinky socks, earthworms, or… baby wipes. Coming from experience, those Jelly Belly baby wipes flavored jelly beans are no joke.
A Party Fit for a Pumpkin King
So your audience members have their costumes and candy in order, but they've still not prepared their abode for the abundance of impending party people?
Shoppers can help make their next monster mash memorable with a plethora of affordable decorations from Target.com, Walmart.com, or the Wholesale Costume Club. Their woeful yet whimsical Halloween wares can transform living rooms, classrooms, offices, and any other space into spectacular locations for letting loose and having fun.
Want to throw an ironic hipster party that you've probably never heard of? Check out Urban Outfitters this year for retro-décor, kitschy keepsakes, and ingenious ideas that guests will soon not forget. Anyone can play canned creepy sounds and lay out some dry ice, but a goth/dubstep party? Now we're talking… I think.
Fright Night
Any of the aforementioned advertisers would be a great choice to promote on your site just in time for Halloween. With the spooky celebration right around the corner there's no time to waste if you want to take advantage of these timely themed deals from FlexOffers.com!