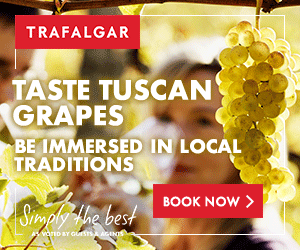 The Trafalgar Tours affiliate program harnesses 70 years of experience to guide your readers on exceptional vacations in the world's most sought-after destinations. Capitalize on the increased travel traffic by marketing these spring break travel deals from Trafalgar Tours on your site through FlexOffers.com today!
---
Go Explore the World with Trafalgar and Save 7.5% Per Couple on a Early Payment Discount on select Trips – Book Today and Enjoy!
Get $400 Off on Couple Flights and Save 5% on Trips to Europe When you Book Through Trafalgar Tours! Book Today and Save Big!
AUTHENTIC EUROPE & YOU – $500 per couple off any flight + 5% savings on 90 Europe & Britain trips. Book now, they're selling fast! t&cs apply
---
Your audience members won't have to suffer through the stagnant entertainment offered at your typical tourist traps when they book their holiday at Trafalgar.com. As the first company to grant guests access to true local dining and cultural experiences, what Trafalgar refers to as Insider Experiences, they take typical guided travel to a more genuine and intimate level.
As part of the TreadRight initiative, Trafalgar Tours takes care of the destinations they visit by working to sustain environments so that future generations can enjoy them. This responsible recreation is but a part of the reason that Trafalgar has won more awards than their peers, including Best Escorted Tour Operator honors for the Europe and Mexico & Latin America markets.
---
Go Explore Canada with Trafalgar for Canada's 150th Anniversary Trip – Book Today and Enjoy!
Discover the heart of USA & Canada. Save $500/couple off any flight + 5% trip savings. Book now! t&cs apply
Discover Beautiful India with Trafalgar on the Leisurely Rajasthan Trip, Book Now!
---
Stepping outside of one's comfort zone and visiting a foreign country instead of the local pool is a great way to build character. Anyone hesitant about making the voyage on their own needn't fear, as Trafalgar Tours can guide them every step of the way.
Packages include tours of famous filming locations in Britain, sightseeing on Copacabana Beach, and exploring centuries of rich culture in Mumbai, among others. Itineraries detail activities guests can take part in and special opportunities not afforded to regular travelers, such as dining at the home of local families. For anyone interested in the authentic culture of their destination while on vacation, that's about as real as you could get without actually moving there.
---
---
Through the Trafalgar Tours affiliate program, your patrons will be able to see the world in a new light this spring. Make the most of these and other promotions on your landing page via the FlexOffers.com network!