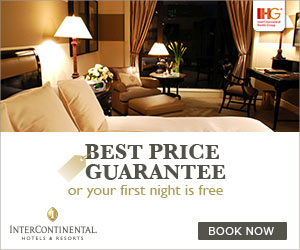 Students will soon be getting a few weeks off from school, which is your cue to market the top spring break travel discounts at FlexOffers.com. Savvy publishers like you can capitalize on this perennially popular time with the offers we've gathered below; take a look and see which ones work best for your site!   
---
With room rates as low as $59 per night in select cities, it's easy to see why the InterContinental Hotels Group affiliate program is a favorite among bargain hunters. That being said, their properties don't skimp on quality; they've tens of thousands of rooms available at prices that can fit any budget.
Treat yourself with a fantastic package for every escape in Mexico, Latin America or Caribbean at IHG properties.
---
From Cancun to Paris, there are affordable accommodations the world over at Accorhotels.com. Any of your audience members considering travel to Europe will be particularly pleased with the thousands of properties they could choose from in that region alone.
This Spring, stay 3 nights and only pay for 2 at more than 1,200 hotels worldwide. BOOK NOW until 29th March 2016
---
It pays to book direct on Marriott.com, as your patrons receive the company's guaranteed best rates, free Wi-Fi, and the ability to pay when they stay. Families and couples alike can save considerably by booking all-inclusive Marriott vacation packages the next time they visit Florida's theme parks or escape to Vegas for a few days.
Save up to 20% when you book in advance CODE* ADP (Book from 01/25/16 to 03/19/16 for Stays between 02/11/16 to 04/03/16, SEE LANDING PAGE FOR TERMS & CONDITIONS)
---
Priceline.com
For deeper travel discounts during spring break, your readers need simply name their own price and save with Priceline.com. In addition to great hotels, your web traffic can also purchase airline tickets and reserve car rentals through this highly regarded outlet.
Hotels – Name Your Own Price
---
When it comes to stylish spring break swimsuits, Nasty Gal Inc is about as ideal a digital storefront as any of your trendsetting site visitors could hope for. They've glam accessories in stock including sunglasses and jewelry, as well as a whole line of vintage apparel for the tragically hip.
From bold bikinis to sexy swimsuits & must-have swim accessories, Nasty Gal has everything you need for Spring Break Survival. Shop now!
---
T-Mobile
I can tell you from experience that nothing ruins the vibe of a relaxing vacation faster than a cell phone whose battery is running out. Should soon-to-be spring breakers be in the market for a new smartphone with improved battery life, as well as extra chargers to take along during their travels, T-Mobile is a solid choice.
25% off travel charging accessory bundle 
---
Don't leave your landing page looking like a deserted beach this spring break; promote these and other hot deals from the FlexOffers.com network today!