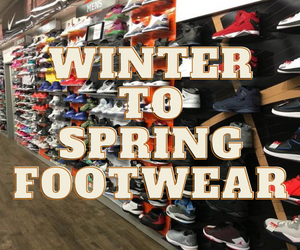 Spring is right around the corner, which means many fashion enthusiasts will begin their search for the latest trends in spring fashion and footwear. Luckily, the FlexOffers.com marketing team has curated a list of enticing discounts in trendy spring footwear styles guaranteed to fit every budget.  
Allow your customers to step into the new season in style by promoting these spring footwear discounts now available on the FlexOffers network! 
New Balance Athletic Shoe
A new pair of retro-inspired sneakers from New Balance should be at the top of any fashionista's list. New Balance's reputation in the footwear industry comes from its craftsmanship and fashion heritage. Emblematic of this is the Men's 327, inspired by the brand's original style from the 70s. This pair features classic design elements with a thoroughly contemporary outlook guaranteed to provide comfort and style all day long. Customers can find these and other coveted athletic gear when shopping the New Balance clearance section at newbalance.com. 
Shop Recently Reduced Styles at NewBalance.com!
Puma is one of the world's leading sports brands with a vast selection of innovative sport-inspired lifestyle products for men, women, and children. When shopping at us.puma.com, customers will find high–quality footwear and accessories made with eye-catching designs suitable to complete any casual spring look. Promote these deals on your site and allow customers to spring forward with lighter layers and happier hues from PUMA. 
Spring Forward: Lighter Layers and Happier Hues Ahead
Nike affords customers access to a collection of sporty yet casual sandal styles for everyone at home designed to help them feel like they are walking on clouds. Nike sandals and slides feature smooth underfoot cushioning for all-day comfort. Market NIKE deals on your site and allow your customers to shop Nike shoes for under $100.  
Shop Shoes $100 and Under at Nike.com
If shoppers are in search of a pair of slip-on shoes this spring, then they needn't look any further than TOMS Shoes. TOMS is well-known for its signature slip-on – the Alpargata. These boho-inspired shoes are made with 100% organic cotton and designed with a canvas footbed and a rope–wrapped midsole rubber outsole for comfort and versatility. Market these deals on your site and grant customers access to TOMS' new styles today! 
Shop TOMS new styles for Spring today!
Wedges and platform shoes are making their way back in fashion this season. Fortunately, FitFlop offers a curated selection of bold and trendy platform sandals designed with lightweight materials, a contoured footbed, and ultra-cushioned technology for perfect fit and support. For a limited time, FitFlop customers who shop the new season collection can get a 15% off their purchase when using the code STYLE15 at checkout. 
WFH (wear for hours!) Shop the new season collection now at FitFlop.com and get 15% off with code: SPRING15 (3/22-4/10)
Skechers offers a fun and colorful collection of footwear for children of all ages. From sneakers to slip-on, Skechers products are carefully designed with the latest looks and innovative technology guaranteed to keep active children comfortable during springtime and beyond.  
When shopping from Reebok's new spring arrivals, outdoor enthusiasts will be privy to a wide range of high-quality athletic shoes designed to provide maximum support in every step, no matter their endeavors. At reebok.com, customers can shop for training footwear, vintage-inspired shoes, and other exclusive releases at prices that won't break the bank. Now, Reebok customers can obtain up to $20 off their order when they shop at reebok.com 
Get $5 off ANY order, $10 off of orders $85+, and $20 off of orders $100+ at Reebok.com