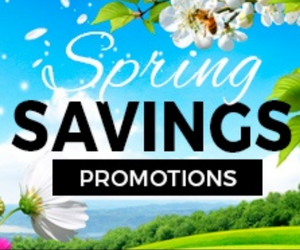 As the clock springs forward, consumers will be in search of a bevy of quality and affordable products to help them transition into the new season. The FlexOffers affiliate marketing team has curated a list of exclusive deals from top brands that shoppers are sure to love.
Boost your earnings as your customers spring into the new season when you promote these deals available on the FlexOffers network!
The warmer days of Spring are near, and Aeropostale is ready to help teens reinvent their wardrobes. Aeropostale is a specialty retailer of high-quality denim and fashion basics offered at compelling values. Promote Aeropostale deals on your site and provide your consumers access to chic and vibrant outfits that convey the spring styles of today.
Affiliate Exclusive: 15% off your purchase of $75+ OR 20% off your purchase of $100+ with code AEROEXTRA. Exclusions apply.
Sam's Club Clearance Sale affords consumers with an exclusive list of coveted items for everyone at home to enjoy this Spring. Whether shopping for a new laptop, home décor, or new toys for the little ones at home, customers are sure to find enticing savings at samsclub.com.  
Shop Almost Gone at SamsClub.com -- these products won't be here for long!
TJ Maxx is the one-stop shop for all things fashion for men, women, and children. Its ever-fresh array of trendy, comfortable pieces provide customers with fun, colorful garments from designers they love at unbeatable prices. Now at tjmaxx.com, fashion enthusiasts can get free shipping on all orders of $89 or more when they use the code SHIP89 at checkout.
Get Free Shipping on tons of New Arrivals at T.J.Maxx - all orders $89+ with code ship89.
If shoppers are looking to restock their pantry with fresh, tasty seasonal foods this Spring, then they needn't look any further than Costco. By purchasing a Costco membership, customers will be able to enjoy low warehouse prices on a variety of high-end brand-name products and services such as groceries, beauty products, optical services, and more. New members who join Costco today can get a $20 Costco shop card as a new Executive member or get a $10 Costco cash card as a new Gold Star member.
Join Costco today. Get a $20 Costco Shop Card as a new Executive Member or get a $10 Costco Cash Card as a new Gold Star Member.
Whether in search of casual wedge sandals or comfortable training shoes, JCPenney offers customers an extensive inventory of footwear suitable to fit every occasion. At jcpenney.com, fashion-forward shoppers will find trendy shoes for men, women, and children from different brand names guaranteed to match their own style. Currently, JCPenney customers can enjoy an extra 15% off select apparel, shoes, accessories, fine jewelry, and home products when they use coupon code AAFFSHOP1 at checkout.
Extra 15% off - Online only AFFSHOP1
Macy's Last Act Sale provides budget-conscious shoppers an opportunity to obtain beautiful home accents and kitchenware to refresh their home ahead of the new season. By promoting Macy's deals on your site, customers will be privy to a wide selection of high-quality home goods and household essentials suitable to give their home a spring makeover without going over budget.  
60-80% off Last Act! Shop now at Macys.com.
Overstock.com affords homeowners top-quality patio furniture and colorful outdoor décor that will make their house shine brighter for springtime. Whether decorating a small porch or a large terrace, Overstock's Garden and Patio collection offers everything customers need to extend their living space outdoors. Market these deals on your site and provide shoppers with an opportunity to save 10% off their purchase and enjoy free shipping when they shop at overstock.com.
All Affiliates 10% off Free shipping on EVERYTHING big & small!* At Overstock.com. Shop Now! - Valid 2.17.2022 - 3.16.2022 @ 11:59 PM MST