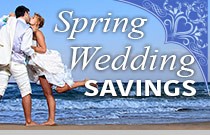 Spring wedding season is upon us, which means select members of your audience are caught up in planning one of the most important days in their lives so far. We've curated a collection of advertisers below who can play key roles in the ceremony, including outlets to obtain the perfect dress and delectable h'ordeuvres.
Check out the choice spring wedding promotions available now on the FlexOffers.com network!
---
---
Chateau Stores Inc.


Whether shopping for the storybook wedding gown or a clean-cut suit, your readers will be more than pleased with Chateau Stores Inc. and its Wedding Boutique collection. They've even stocked beautiful dresses for bridesmaids that are elegant without taking too much attention away from the bride herself.
Find everything you need to walk down the aisle in style at the LE CHÂTEAU Wedding Boutique!
Nina Shoes


After selecting the ideal wedding dress, choosing a pair of coordinating shoes is certainly in order. NinaShoes.com sells glamorous heels for walking down the aisle, as well as sashes and other accessories to add just the right amount of flair to the affair.
Get Rewards for Your Wedding from Nina Shoes! Use code BRIDALPREP to save 15% on 3 shoes, 20% on 4-5 shoes and 25% on 6+ shoes!
Jared The Galleria of Jewelry


If your audience members like it then they should put a ring on it, which is easy when they shop the Jared The Galleria of Jewelry affiliate program. Wedding bands, bridal party gifts, and other dazzling accessories can all be sourced through this storefront.
Shop Exceptional Values on Wedding Rings at Jared.com!
Limos.com


Magical pumpkin carriages are hard to come by these days, but a breathtaking ride can still be found via Limos.com. They give customers the ability to browse and book specialty vehicles for any event, including weddings, anniversaries, and bachelor/bachelorette parties.
Need an Affordable Limo? Find Great Deals on Rides for All Occasions on Limos.com.
My Wedding Favors


For stylish wedding favors at affordable prices, your patrons can't go wrong with MyWeddingFavors.com. Through this website they can order everything from monogrammed chocolates to vintage cork coasters, giving couples the chance to express their personality and still have money left over for the honeymoon.
Enter coupon code SAVE10 to receive 10% on orders over $150.
1800flowers.com


It should come to no one's surprise that 1800flowers.com is as reliable on weddings as they are during Valentine's Day, prom, and any time that calls for a thoughtful gesture. One can browse by color, type, and even theme to find the arrangements that coordinate best.
Save 15% on Florist Designed Wedding Flowers and Gifts at 1800flowers.com. Use Promo Code: WEDDFFTN at checkout.
Shari's Berries


Shari's Berries is where your web traffic will want to shop for sweet desserts that will be practically universal hits with wedding attendees. Gourmet dipped strawberries, cherries, cake pops, cheesecake bites, and more is on the menu at berries.com.
15% off Mother's Day Strawberries & Gourmet Treats (min $29)
It's always a nice day for a white wedding with these discounts from FlexOffers.com!