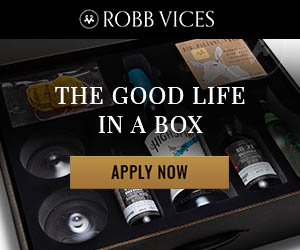 Time's running out to take advantage of these St. Patrick's Day party deals now available to promote on your website through the FlexOffers.com network!
Check out these enticing discounts on novelty décor, fun costumes, and other celebration essentials!
---
Living the good life is more than just an aspirational mantra for those members of your audiences who sign up for the luxury subscription box service available through the Robb Vices affiliate program. High-end spirits, gourmet goods, and other items sure to impress party guests at any social gathering are part and parcel of these packages.
Sign up to be a member for a 3-month, 6-month or annual subscription and receive Highspire Rye Whiskey with code: HIGHSPIRE
---
The last thing your readers will want to happen when having guests over to celebrate St. Patrick's Day, aside from running out of ice, is having the local birds completely ruin visitors' vehicles. The humane deterrent devices sold through the Good Life® Pest Bird Control Products affiliate program should do just the trick to keep those feathered party crashers at bay.
G1 Bird & Wildlife Propane Cannon: Buy 1 Get 1 FREE Sale. Free rotating tripod with purchase!
---
The pop culture clothing and collectible retailer Emp.co.uk is a popular shopping option for St. Patrick's Day as they have green garments that can help everyone represent their favorite fandoms. A slew of officially-licensed items based on the upcoming Avengers: Infinity War film is also on sale here, which is sure to lure mega-fans into a few impulse buys.
Use code GREEN15 to get 15% off Guinness & other Folk Stuff
---
Currently offering a 17% discount on St. Patrick's Day party supplies and decorations, windycitynovelties.com is the place your patrons will want to shop for fun novelties like glowing shamrock necklaces and drinkware. Selling goods for every major holiday, birthdays, graduations, and other lively events, they're a smart marketing option to consider throughout the year.
Save some green when you shop St. Patrick's Day Party Supplies & Decorations at Windy City Novelties. Take 17% OFF Orders now thru 3/17/18 with PADDY17
---
MonthlyClubs.com is the ultimate party planner's friend, as they deliver curated collections of everything from wine and cheese to cigars and chocolate directly to a customer's door. Even if there isn't a major holiday to celebrate the week that a MonthlyClubs.com box arrives, chances are guests will gather to sample something new and delightful.
St Patrick's Day Beer Sale! from IPA inspired Hop Heads Beer Club from Microbrewed Beer of the Month Club: Get $25 off prepaid 12 shipment order with code PAT25
---
Even if they're opting to stay away from the raucous crowds, your web traffic can save 15% when they book a Holiday Inn Express room through the InterContinental Hotels Group affiliate program this St. Patrick's Day. Understandably so, a quiet evening away from it all may be just what they need to unwind.
Book & Save 15% on Your St. Patrick Day Celebrations when you Stay with Holiday Inn Express!
---
Don't miss your opportunity to optimize your landing page with these St. Patrick's Day party deals, now at FlexOffers.com!