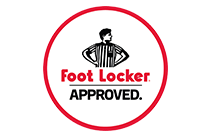 While wearing a crisp pair of kicks from Footlocker.com won't necessarily improve your layups, they will at least make you look ridiculously good during practice. Featuring stylish sneakers and athletic apparel for men, women, and kids, the Footlocker.com affiliate program garners name recognition that competitors could only hope to achieve; it's as simple as that.
Take a look at the engaging discounts currently available for Footlocker.com via the FlexOffers.com network!
---
$15 off $110 at Footlocker.com. Code LKS1564L. Valid 6.1.15 – 6.30.15. Online Only. Exclusions Apply.
Shop Nike Running at Footlocker.com. Plus Free Shipping on select styles. Contiguous US Only. Exclusions Apply.
10% off $50 at Footlocker.com. Code LKS1564N. Valid 6.1.15 – 6.30.15. Online Only. Exclusions Apply.
Though loyal Footlocker customers will tell you that the brand's soul lies in its selection of impeccable basketball sneakers, there's so much more to them now. With the latest pairs of shoes fit for running, training, and even playing volleyball in their virtual inventory, this outlet can appeal to a much wider demographic than just those who frequent their brick-and-mortar shops. They even carry sandals and walking shoes for people who want to go at their own pace without compromising their sense of style.
Free Shipping over $75 at Footlocker.com. Code LKS15643. Valid 6.1.15 – 6.30.15. Contiguous US Only. Exclusions Apply.
Shop Jordan Hare at Footlocker.com. Contiguous US Only. Exclusions Apply.
Aside from the athletes that put in countless hours improving their skills, Footlocker.com is also the place where sneakerheads such as myself go to for the latest designs. Some pairs are strictly collectibles and will never see a speck of dirt, while others I can't wait to show off while out with my friends. Footlocker.com maintains an updated release calendar on their website for millions of customers like me and those members of your audience who can't miss the next hot look. We're just dying to buy the new classics, and that's where you as a publisher can capitalize.
Stocking all the top footwear brands that have already become household names, Footlocker.com is as easy a sell as you can hope for when it comes to promoting shoe retailers on the top page of your website. Market these and other incredible Footlocker.com deals from FlexOffers.com today!