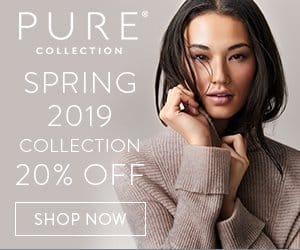 Internationally recognized for their exceptional cashmere apparel collections, Pure Collection is sure to drive even more customers to their website during their enticing Mid-Season Sale. For a limited time, your readers will be able to substantially save on what's sure to be their next favorite garment with the links and banners for the Pure Collection (US) affiliate program on FlexOffers.com.
Don't miss your opportunity to optimize your landing page with these deals today!
---
---
While winter winds have died down across the states, there's still the occasional pocket of cold weather that merits a sweater. When tees and tank tops alone just won't do, it's Pure Collection's cashmere sweaters to the rescue.
Sold in an assortment of colors and cuts, each cashmere sweater this online storefront stocks is likely softer than any other item in your reader's closet. Particularly during spring, when it can be cool but not cold, occasionally frigid but not freezing, these are the perfect accessories to keep at hand. Even if your patrons find themselves indoors all day in an office setting, a fine cashmere cardigan is all it takes to feel juuust right without constantly adjusting the thermostat.
---
---
Unsurprisingly, men also have many clothing options available to them when they click through your links to us.purecollection.com. Guys who want to get into some seriously comfortable long-sleeve sweaters can do so here in a number of timeless patterns that take the guesswork out of coordinating an ensemble. Should they be looking for just a touch of cashmere elegance for their outfit, slipover vests, woven scarves, and hats are available as well.
Parents who want to give their little ones the very best in soft and stylish wear can look to the Pure Collection (US) affiliate program for cashmere too. Be it a birthday, holiday, or any special occasion, a cashmere sweater and matching set of booties is always an elegant gift option. If friends and family members are in the market for a marvelous gift to give a young family, they can't go wrong with a cashmere baby blanket from Pure Collection that will be cherished for generations to come.
---
---
Time is running out to make the most of these discounts available from the Pure Collection (US) affiliate program via FlexOffers.com. Load them up on your site before their Mid-Season Sale ends!