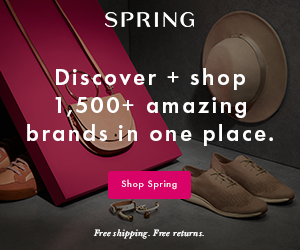 Boasting products from over 1,500 brands that your audience members already know and love, it's a wonder that you're not already promoting links from the Spring affiliate program on your website. Available through the FlexOffers.com network, these promos are the perfect means of introducing trendsetters to seemingly limitless new outfit options that will fill out their closets in no time.
Take a look at the latest enticing Spring marketing content below!
---
Get 4% cashback on almost every purchase on Spring!
Limited time Refer a Friend offer: Give $20, Get $40!
Spring is Now Offering 10% Off First Time Orders!
---
With swimsuit season right around the corner, chances are your youthful readers are gearing up for weeks of fun in the sun. At shopspring.com, they'll be able to browse through literally thousands of bikinis and beach accessories in a modern, streamlined storefront, including social media-worthy sunglasses from Gucci, Stella McCartney, Michael Kors, and other brands that will have the likes pouring in on every post.
The Spring affiliate program also sells swimwear for men in trunk and brief cuts, as well as rash guards for guys (and gals) riding giants offshore. Paired with a new set of sandals and beach towels that they won't be embarrassed to be seen carrying, it's easy to see how summer starts at Spring.
---
---
Aside from designer garments for the entire family, shopspring.com can also outfit entire homes with stunning new décor and furniture pieces. If your patrons have been residing in the same home season after season without any change in their environment, now's the time to spring into action with Spring.
Those looking to update their dining areas will be pleased with both the immaculate tables and kitchen tools to fix food with that can be bought from Spring. They've storage baskets and boxes that don't look out of place anywhere they're placed in a den or bedroom, exquisitely soft bedding sets, and modern accouterments that can transform any backyard into a dreamy oasis that houseguests will want to lounge in.
---
---
Transform your landing page's performance with these discounts from the Spring affiliate program, now at FlexOffers.com!