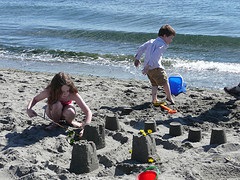 Memorial Day usually marks the unofficial start of summer in the United States, and it also heralds a change in marketing strategies for publishers with audiences looking forward to days of fun in the sun. There are lots of advertising options that will appeal to people planning on traveling with friends and family, as well as those making the most of a modest budget and having a memorable time at home. Either way, a life of leisure is only a few clicks away.
Promote these deals for those taking vacations or staycations this summer, now available via FlexOffers.com!
---
---
Leaving on a Jet Plane
With classes across the country coming to an end for the semester, summer is traditionally the best time for families and college friends to plan an exciting vacation.
of the most inconvenient aspects of taking a trip with multiple people is, of course, coordinating everyone's schedule, budget, and preferences. Instead of having to endure days of people moping around while everyone else is having fun, your web visitors might instead be inclined to book their next trip through the ShareTrips affiliate program. Their platform allows multiple people to view and interact with travel search results simultaneously in real-time, so everyone gets a say on where the group is headed. Whether traveling with three or thirty revelers, now is the time to plan a venture on ShareTrips.com as customers can get up to 5%* cash back on their completed hotel stay with Share & Save.
As soon as everyone gets back from vacation, they'll want to utilize the services available through the Animoto affiliate program to commemorate the experience. This cloud-hosted platform makes it easy for users to create and share rich videos made from their own custom images and videos, with pre-licensed background music to boot. Your readers can receive 20% off their Animoto purchase today with the coupon code FLEX20 (ends 6/9/14).
Staycation, All I Ever Wanted
Not everyone has the financial means to indulge in international travel, but that doesn't mean there aren't just as many ways to have fun at home. Staycations are a great idea for individuals on a strict budget, as well as those trying to save up for a big trip or purchase later in the year.
The Rodale's affiliate program is ideal for your page visitors interested in eco-friendly organic apparel, but they also stock items that one can use to recreate a spa experience- even in a tiny loft apartment. Anyone wishing to lounge around in comfort can buy 1 organic cotton t-shirt and get the 2nd t-shirt at 50% off at Rodales.com when they use the promo code VNECKTEE. Skincare items such as sunscreen and moisturizers are also available, as are home and garden accessories, kitchenware, and gourmet ingredients for creating a delectable meal.
Speaking of tasty treats, the Taylor Gifts affiliate program is currently running a special that makes preparing foods during backyard barbecues much more manageable. While they always have unique gifts and décor on-hand, customers can now shop TaylorGifts.com for a set of 2 Potato Express's at only $14.98 shipped when they use code POTATOEX (ends 5/31/14). The Potato Express is just the device a home chef needs when they want to speed up the otherwise long cooking time of a baked potato, especially when guests are hungry and the rest of the meal is ready to eat.
How I Spent My Summer Vacation
Your site patrons on even the strictest of budgets are likely to indulge in a few purchases here and there this summer, and it's up to you to take advantage of their wayward wallets while you can. Bulk up the promotions on your landing page with deals like these and more today on FlexOffers.com!