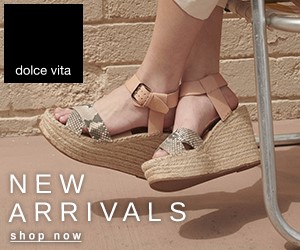 With temperatures heating up outside, so too should the sales on your landing page.
Take advantage of the discounts listed below on seasonal fashion, top tech, and other must-haves in the FlexOffers.com Summer Survival Guide 2018 today!
---
The stylish yet comfortable shoes sold through the DolceVita.com affiliate program are the perfect accessories for any summer outfit. Their sandals and wedges would look incredible when worn on the shore or while out with friends at night, showcasing their versatility throughout the day.
Sign up for emails and receive 15% on full price merchandise
---
If unwanted critters are ruining your readers' summer picnics, then they'll want to pick up a few of the humane repellant devices sold through the Good Life® Pest Repellers affiliate program. The Guardian™, for example, uses ultrasonic sound, alarms, motion sensors, and predator calls to keep creatures big and small out of gardens and yards.
Enjoy The Veggies Of Your Labor With Our Garden Pack! Save 10% With Code: GARDEN
Nature-Cide® Flea & Tick Insecticide Spray: All-natural spray kills fleas, ticks, and their eggs within seconds. Thoroughly treats areas where pets and wild animals rest.
---
When planning a big purchase this season such as a new house or vehicle, your web traffic will first want to ensure their credit score is up to par. The Credit Sesame | Non-Incent affiliate program grants insight into finances that can result in helping users effectively & efficiently save, pay off loans, and even see their credit scores rise in no time.
FREE credit score, monitoring and more at Credit Sesame – Sign up in 90 seconds. No Credit Card needed.
---
Laura Mercier is famous for their exceptional cosmetics collections, including a skincare line that helps create the "Flawless Face" that the brand is known for. Their moisturizers and sunscreen lines are made to combat the harsh effects of the sun and preserve pristine skin for years to come.
Friends and Family Promotion with 20% Off Your Entire Purchase with Code LMLOVE!
---
Whether spending hours outdoors or catching up on all the shows they've yet to binge watch, Lenovo USA has the consumer tech items needed for an unforgettable summer. Powerful gaming PCs, in-ear headphones fit for hiking, smartphones, tablets, and other devices to help stay connected are a few clicks away through this retailer.
30% off 15″ Yoga 710 laptop 80V50010US with Intel Core i5, 8GB Memory, 256GB SSD now only $649.99 with coupon code YOGA15
---
Icons of the shore, Quiksilver is the mainstay clothing brand for board riders who live for adrenaline rushes while riding giants at sea. Even if your readers are more likely to be hanging out poolside in the coming months, they'll fit right in while clad in their Quiksilver tanks, shorts, and sandals.
Sale Stacked At Quiksilver – Buy 2 Sale Styles, Get 20% Off OR Buy 3 or More Sale Styles, Get 30% Off. Code: STACKED. Excludes Sale Snow. Expires 6/30!
---
Promote these and other enticing savings available through the FlexOffers.com network today!