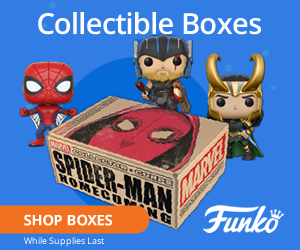 Even if fans of caped crusaders and waffle-wielding telepathic orphans among your audience can't make it to San Diego for the big pop culture convention this week, there are still loads of retailers around the web offering exclusive merch that collectors will want to get their hands on.
Like a legendary defender of the universe, now's the time to link up these super deals for comic-con 2018 on your website via FlexOffers.com!
---
Funko
Similar to their iconic mascot Freddy Funko, pop culture collectible manufacturer Funko wears the crown of their respective industry. From school children to professionals, chances are there's a vinyl figure (or several dozens) available from this retailer that your readers would love to display on their shelves or desks.
Funko Collectible Boxes Now available!
---
i play., inc.
The healthy and practical baby products sold through the i play., inc., affiliate program come with peace of mind that many other outlets simply do not provide. Organic apparel and toys created from sustainable materials are but a few clicks away for parents who browse this brand's site.
Free shipping on all orders over $50!
---
One of the most talked-about clothing retailers in recent memory, Johnny Cupcakes has seen customers camping outside of the brand's signature store and various pop-up shops just to get their hands on the line's latest t-shirts. Your patrons won't have to wait hours in line for a distinctive shirt, hat, or hoodie that combines the JC logo with beloved pop culture references when you add these links to your landing page.
---
You don't have to have super-perceptive powers to recognize the amazing savings that the Groupon International affiliate program can offer your traffic. They regularly have links touting low prices on local dining and cultural experiences, and currently, feature massive markdowns on paper comic books for purists who have yet to go digital.
79% OFF DC or Marvel Comics Mystery Deal $36.99
---
While hotel rooms usually go as fast as a speeding bullet once convention dates are announced in San Diego, there's still a chance for fans lucky enough to score tickets to find flights, hotels, and vehicle rentals at OneTravel.com. There, they can compare the rates of over 650 airlines to find the one that best fits their schedule and budget, and get instant confirmation so there's no second-guessing during the fast-paced days ahead.
Comic-Con OneTravel Deal Save up to $36 with code CC36 Book Now!
---
The EMP UK affiliate program is getting in on the excitement during summer convention and concert season with tons of exclusive clothing and collectibles shoppers won't see anywhere else. Even those who have begun "adulting" with a mortgage and family of their own will be thrilled with the décor sold here that helps keep a bit of their childhood alive and well.
Massive discounts in our Sale section
---
One of the planet's most prominent destinations for video game enthusiasts, gamestop.com is also where your page visitors can go for exclusive collectibles they'd otherwise have to wait hours in line for at this weekend's big convention in San Diego. Their summer convention collectibles include items from The Legend of Zelda, Star Wars, My Little Pony, Kingdom Hearts, and other brands with cult-like followings.
Check out these recently announced GameStop exclusive Summer Convention collectibles at GameStop.com.
---
Don't miss your opportunity to capitalize on the hype by promoting these super deals for comic-con 2018 on the FlexOffers.com network today!