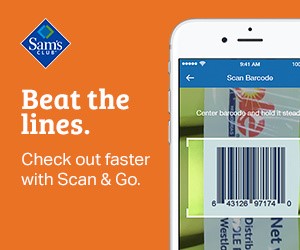 Hosting a successful party for the biggest football game of the year can easily dredge up feelings of stress and irritability, as they'll likely be driven to their wits end in their attempt to secure pleasurable experiences for their attendees.
Help your page viewers guarantee their guests unabashed enjoyment by promoting these super football savings now available on the FlexOffers.com network today!
---
If your site visitors are in search of refreshments for their guests, then you'll certainly want to promote the Sam's Club affiliate program on your landing page. Sam's Club's massive inventory is comprised of foods for parties of all sizes at prices that won't break the bank. Currently, at Sam's Club, shoppers can purchase 36 ct. traditional Chex Mix for just $10.47 to give their partygoers something nervously snack on for four quarters.
Perfect for Super Sunday! Chex Mix Traditional – 36 ct., only $10.47!
---
Through the NFL Game Pass (US) affiliate program, your web traffic will gain access to every regular-season game for all 32 teams and experience peaks and valleys in the throes of professional football with their favorite team. Now at gamepass.nfl.com, football lovers can subscribe to NFL Game Pass (US) for just $49.99 and begin strengthening their connection to both teams participating in the big game.
Get NFL Game Pass at the lowest price of the season! Only $49.99! Valid for U.S. customers only.
---
While party hosts may want to rid their home of annoying family and friends rooting for the wrong team during the big game, they may have to settle for taking their frustrations out on actual pests. With Good Life® Pest Repeller's Nature-Cide® All-Purpose Aerosol, entertainers can instantly eliminate bugs to ensure they aren't indulging in the chips and salsa along with their guests.
Don't Let Bugs Ruin Your Next Party! Take 10% OFF Toxic Free Pest Repellers With Code: FXSAVE10PRU
---
By promoting the Macys.com affiliate program, your patrons will have access to apparel from all 32, professional football teams. If your partygoers wish to show up their next get-together draped in clothing representing one of the two teams competing for a title on Super Sunday, then it would behoove them to browse Macys.com's Super Weekend Sale. With coupon code YAY, shoppers can receive 20 percent off attire bearing insignia from their favorite football franchise and root for their favorite team in style.
Take 20% Off Macy's Super Weekend Sale Plus The Big Home Sale with Code YAY. Shop Now at Macys.com! Valid 1/30-2/3.
---
If your readers are in fact throwing a party for the big game, then they may want to consider upgrading the televisions throughout their estate. Due to a lack of surface area, television screens under 40 inches can lead to a degradation in viewer satisfaction, and subsequently, a failed party endeavor. Thankfully, Wal-Mart.com US provides its customers super screen options for Super Sunday such as the Samsung UN50J5200AFXZA 50" LED HDTV, capable of enhancing their visitors viewing experience for $200 off the regular price.
Save over $200 on Samsung UN50J5200AFXZA 50″ 1080p 60Hz LED HDTV (Was: $697.99 | Now: $497.99)
---
It's not uncommon for the fashionistas among your audience to don apparel that represents their favorite team, but now they can do the same with bags and accessories found at ILoveDooney.com. ILoveDooney's NFL collection allows its consumers to choose from crossbody purses, and bags, to wallets, clutches, and more in all 32 professional football teams to aid fashion gurus in their quest to successfully merge their fandom with their aesthetic appeal.
Rep Your Favorite Team in Style – Shop ILoveDooney's NFL Collection!
---
Market these super football savings on your landing page via FlexOffers.com today!