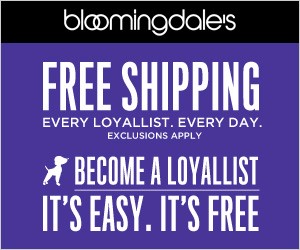 Taking advantage of Black Friday bargains immediately following a large Thanksgiving dinner can be quite a daunting task. Fortunately, Cyber Monday gives cost-conscious consumers the opportunity to slowly begin burning excess calories from their Turkey Day gluttony by exercising their index finger to find discounts on brands they love at the click of a mouse.
Allow your page viewers to shop for highly coveted holiday items from the comfort of their own home by promoting these Cyber Monday savings now available on the FlexOffers Network!
---
The Bloomingdale's affiliate program grants your patrons access to high-end fashion at an affordable price. Weather in search of clothing for the entire family, or jewelry and accessories, Bloomingdale's massive inventory houses reputable brands to help shoppers complete holiday wish lists while enjoying considerable savings in the process. At Bloomingdales.com, customers can take advantage of its Cyber Monday sale and receive 25 percent off a large selection of items for a total savings of up to 60 percent.
Take advantage of Bloomingdale's Cyber Monday sale and receive 25% off a large selection of items for a total savings of up to 60% at Bloomingdales.com. Plus free shipping! Offer valid November 25-27, 2018.
---
While JanSport has designed backpacks and outdoor gear that equips your page visitors for great adventure for over 50 years, this brand continues to innovate and engineer new and exciting gear. JanSport not only offers backpacks for students, but they also sell totes, mini and travel bags and fanny packs in a variety of vibrant colors and patterns, which can be purchased during JanSport.com's Cyber Monday shopping event for up to 20 percent off regular price.
Jansport Cyber Monday Sale! Up to 30% Off, Free 2 Day Shipping and New Styles Added! (Valid 11/26 – 11/27)
---
If your readers are in search of door-busting deals on clothing, furnishing, cosmetics and beyond, then you'll certainly want to promote the Belk affiliate program on your landing page. Currently at Belk, customers can save up to 30 percent off regular price and sale priced purchases, as well as 25 percent on home goods and footwear by using code CYBER30 upon online checkout.
(30% Off Regular/Sale Priced Purchase (25% Home/Shoes; 20% Coffee/Electrics) @ Belk! Use Code: CYBER30)
---
H&M (US) is comprised of nine unique brands working in conjunction with one another to make great design accessible to everybody. While H&M (US) takes pride in delivering apparel that promotes creativity, diversity, and inclusion, they also offer a wide range of on-trend homeware products that provide modern-day furniture at prices that won't break the bank.
Cyber Monday is here! 30% off sitewide + free shipping! Discount applied at checkout – Valid 11/26 Only!
---
Through the River Island – US affiliate program, your site visitors will find stylish outerwear that allows them to remain fashionably warm during the cold weather months. At US.RiverIsland.com, fashionistas can shop for jackets and coats by color, fit, and last but certainly not least – price. However, price will be the least of their concerns as shoppers will experience savings up to 20 percent off when they spend $150 or more at River Island – US on Cyber Monday.
Cyber Monday is here! Get 20% off when you spend $150+. 11/26 Only.
---
Shopping for techies is never easy but if your web traffic has been tasked with selecting gifts for tech-savvy individuals during the holidays, then they needn't look any further than Newegg.com. From computer systems, office solutions and toys, to gaming, automotive and industrial tools, Newegg.com is guaranteed to have merchandise that satisfies all digital desires. Now at Newegg.com Gamers can receive $150 off Cyberpower PC Gaming Desktops through Newegg.com's Cyber Monday extravaganza.
$150 OFF CyberpowerPC Gaming Desktop Gamer Xtreme C366X Intel Core i3 8th Gen 8100 (3.60 GHz) 8GB DDR4 1TB HDD 240GB SSD NVIDIA GeForce GTX 1060 Win10 Home 64-Bit – $699.99 at Newegg.com, ends 11/26
---
Market these super Cyber Monday Savings on your landing page via FlexOffers.com today!