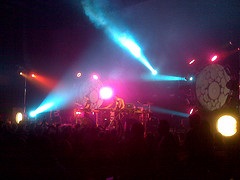 Aside from blossoming flowers and slowly rising temperatures, the arrival of spring also heralds the growing roar of music faintly lingering in the horizon. From budding artists learning a few new licks to can't-miss concerts featuring some of the most famous acts in the industry, there are plenty of reasons for publishers to be excited right now.
Check out these new musically-inclined promotions now headlining at FlexOffers.com!
---
---
Return of the ATLiens
While there are plenty of concerts dotting the landscape this season, few can rival the popularity of the annual Coachella Valley Music and Arts Festival. Considering that the beloved hip hop duo OutKast will be reuniting and taking top billing for two weekends at Coachella, this is the venue where everyone from Sacramento to Stankonia will want to be.
The Razorgator affiliate program is the perfect avenue for your page visitors to buy Coachella tickets or passes to any other shows this concert season. Razorgator.com also sells tickets to fast-paced professional sporting events and award-winning theater performances, so there's something in stock for every type of audience member.
Dress Rehearsal
Whether performing for the masses or rocking out in a crowd with your friends and family, wearing the proper attire is essential for having an amiable concert experience.
Much like passes to a sought-after show, the Avenue affiliate program is offering an incredible promotion that will only be available for a limited time. On 4/9, customers on Avenue.com can enjoy 40% off site wide savings on fashions for full-figured women, as well as shoes and accessories that would be comfortable to wear during long sets.
Sears is also a great source for comfortable concert apparel for both women and men. Factoring in the lowest prices of the season from 4/4-4/12 during Sears Days, their affordability makes them an especially attractive advertiser for frugal groups already enduring the cost of multiple tickets, parking passes, and refreshments.
The adage advocating that it's what's underneath that counts also holds true when getting dressed for an energetic performance. The Bare Necessities affiliate program can be of help in this facet, as they showcase designer intimate apparel and shape wear that provides the best fit for every body. Shoppers on BareNecessities.com can receive 25% off all orders plus free shipping until 11:59 PM EST on Monday, 4/14/14, which gives them plenty of time to pick out a stylish swimsuit to wear underneath their outfit in case they get exceedingly hot in the middle of a show.
Express Yourself
After attending an extraordinary performance, it's not uncommon for concert-goers to get inspired to start writing and performing their own original songs.
The Music & Arts affiliate program can help young talents find their sound, as they have been providing instrument sales, rentals, lessons, and repairs for decades. Anyone interested in testing their musical chops can shop MusicArts.com to get free shipping on any order of $9.99 or more. Even if customers already have an instrument at home, they can find a wealth of instructional tools through this virtual outlet.
With tens of thousands of products in their inventory, the Musician's Friend affiliate program can certainly live up to its namesake. Those going for a more natural sound will be pleased to see that they can save up to 67% off MSRP on acoustic instruments from 3/24 – 4/30/14 on MusiciansFriend.com. While they may not have the same heavy tone as their electric counterparts, an acoustic guitar in the hands of a skilled player is more than capable of changing the musical landscape as we know it.
Five Minutes to Curtain
You don't have to have a taste for modern music to get the most of these deals from FlexOffers.com, just the foresight that crowds are likely to go crazy for them. There's no time to waste if you want your web traffic to experience these limited-time bargains, so start promoting them on your page today!