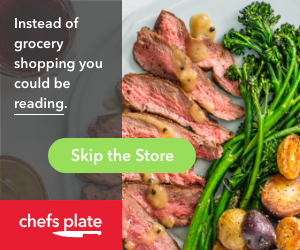 Temperatures are beginning to rise throughout the Northern Hemisphere, which means the sun is shining, birds are chirping, and spring flowers are finally in bloom. While the atmosphere may be changing with the new season, many homes are still in need of maintenance and/or repair following the frigid winter months.
Give your page viewers access to brands that help bring their home current with the upcoming season by promoting these supreme spring-cleaning sales now available on the FlexOffers network!
---
Meal planning can detract from a homeowner's spring-cleaning efforts but through the Chefs Plate affiliate program, that no longer has to be the case. With a Chefs Plate subscription, families and bachelors alike can select a personalized meal plan and have it conveniently shipped to their doorstep. Meals such as the Cantina-Style Steak Tacos, Tandoori Chicken, Pork Souvlaki Bowl, and others can be had for as little as $12.99 per serving and take as little as 15 minutes to prepare.
50% off your first order. Get Chefs Plate Today
---
Stacking up on food during the winter months to reduce the number of potentially hazardous pilgrimages to the grocery store is typical, but what if all the previously purchased sustenance has yet to be consumed at the onset of spring? Fortunately, for the host of hibernators who escaped Old Man Winter's clutches with a surplus of food, JCPenney offers food storage that not only keeps food fresh but effortlessly complements their kitchen.
---
Lawn care is a critical component of spring-cleaning, but the physical demands of yard work can take a toll on one's body. By promoting the Troy Bilt affiliate program on your site, your patrons will have access to walk-behind mowers, riding lawn mowers, and a myriad of other self-propelled tools that facilitate their dream lawn or garden coming to life.
TroyBilt.com – Shop Lawn Care and Gardening Parts On Sale Now!
---
At the culmination of another spring-cleaning session, your web traffic will assuredly be seeking measures to completely rid their home of any indication of wintertime blues. Thankfully, they'll be able to do just that through The White Company (US &CA) vast selection of home fragrance options that allow them to capture the essence of spring through "raindrop", herbal, and floral scents that cleanse and refresh their living space.
Embrace summer rituals with The White Company. Explore our new summer collections, with free delivery on orders over $75 valid through May 1
---
If the pet parents among your audience are in the midst of spring-cleaning, then you'll certainly want to promote the PETCO Animal Supplies affiliate program on your page. At Petco.com pet owners will find year-round flea and tick solutions for cats and dogs in the form of chewable pills, sprays, and shampoos. Currently, at Petco.com, customers can receive up to 45 percent off flea and tick solutions for cats and dogs to ensure their spring-cleaning is not in vain.
Up to 45% Off Flea and Tick Solutions for Cats and Dogs
---
While home maintenance is important, it should never usurp personal upkeep, and now your readers can complete projects and preserve their aesthetic appeal when they shop at Beautystoredepot.com. At Beautystoredepot.com, your site visitors will uncover hair, skin, and makeup options that help achieve them achieve luscious locks and glowing skin at an affordable rate. For a limited time, Beautystoredepot.com customers can receive 15 percent off and free shipping with coupon code 15AA.
Take 15% Off Every Order + Free Gifts + Free U.S. Shipping at beautystoredepot.com. Use code 15AA at checkout.
---
Capitalize on these supreme spring-cleaning savings now available through FlexOffers.com!