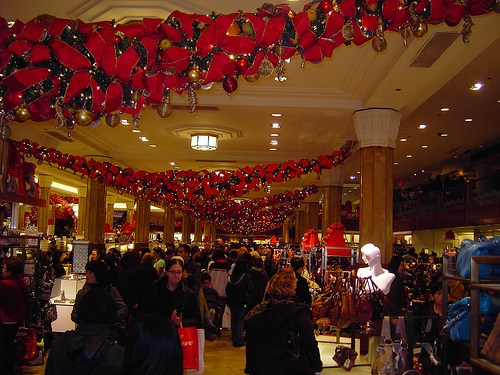 The busiest shopping days of the year are right around the corner, and there's no time to waste if you want to make the most of Black Friday and Cyber Monday deals at FlexOffers.com. Check out some of the prime advertiser promotions currently available on the web below, now available in our network!
---
---
Marquee Players
Though fickle customers may hunt for the best deals across scores of advertisers, there are some industry mainstays that remain popular shopping options.
There are Black Friday discounts abound from JCPenney, one of the largest department store operations in the retail landscape today. Customers can shop Doorbusters & Big Buys at jcp.com until 1PM CST on Black Friday and then save an extra 15% off starting at 2PM CST, but they had better hurry while it lasts! With so many high quality name brand handbags, housewares, décor, and more in stock, plus apparel for the entire family, JCPenney is a perpetually smart promotional choice on any site.
Plus size women wishing to look their best throughout the holiday season should definitely shop at Avenue, which sells flattering fashion made to fit them just right. They are currently running a promotion granting customers 15% off 1 item, 20% off 2 items, 25% off 3 items with code AV20NOW, an incredible discount from any retailer. Those purchasing gifts for others have a great selection of jewelry and winter jackets to choose from as well, all suitable ideas for the holidays.
Universal Appeal
Making sure to buy a gift those they care about most will appreciate is a constant concern burdening your audience- but it doesn't have to be.
Barnes&Noble.com brings reading into the modern age with their wildly popular Nook tablets, which makes text and video appear crisp on their compact high definition screens. Shoppers can currently save up to $120 on Nook HD Tablets, making it their best price ever. Students, professionals, and anyone else with an active mind needing to unwind will surely love to curl up with a good Nook.
Another item appreciated practically across the board is a nice, comfortable pair of shoes. FootSmart stocks shoes and socks for women and men, in addition to products that attend to foot health concerns like insoles and arch supports. At the moment they are offering 15% off Hannukah gift ideas, plus $5.99 flat shipping– a great deal to help curtail your site visitors' shipping costs and increase add-on purchases during their shopping experience. If you really want to see someone's face light up for the holidays, a deluxe foot massager or spa can certainly do the trick.
Act Now- Seriously!
I cannot stress how important it is to load your website with worthwhile promotions from advertisers like these in preparation for Black Friday and Cyber Monday. Once you realize how much of a positive impact these affiliate programs can have for your bottom line, that slice of pumpkin pie after Thanksgiving is sure to taste a little sweeter.