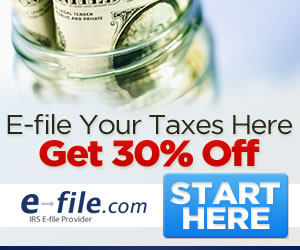 The deadline for filing your federal tax returns is just over a week away, meaning publishers need to start promoting relevant advertisers now to make the most of those still scrambling with their paperwork. As such, FlexOffers.com has gathered the top Tax Day 2016 discounts; check them out and see which ones work best for your site!
---
Your web traffic can save considerable time when filing their federal tax returns by going through e-file.com. Their helpful software makes filing as pain-free as possible because we all know how exponentially frustrating the process can be otherwise.
30% Off With Coupon Code "SAVE30"
---
Just as modern technology has made shopping and travel bookings possible anywhere in the world now, TaxAct allows your audience to prepare and file their taxes in a few simple steps anywhere they may be. Convenient and affordable, they're one of the best options for an optimized refund.
Get a Free Samsung Galaxy When You Start a $0 TaxAct Return!
---
FreeTaxUSA is an IRS-approved e-file provider that has already taken care of over 14 million tax returns. They can help your website visitors get the biggest refund available to them in the fastest way possible.
FreeTaxUSA. 100% Free Federal. $12.95 State. Direct IRS E-File
---
eSmart Tax
The smart choice for accurate online tax filing, eSmart Tax features multiple products for individuals with varying situations. Solutions are sold that are ideal for families, investors, or business owners, as well as simple returns for people with fewer complications.
Get 30% off eSmart Tax Filing. Just click through this link to eSmartTax.com!
---
The neatest thing about The Neat Company is how neat all of your receipts will be when the time comes to start making deductions on a tax return form. Their desktop and wireless scanners are useful all year long but come April, they'll be worth their weight in unnecessary forms you'd have to fill out for missing a line on your tax return.
Get organized in the new year for less than $100! Get $20 off of Neat Annual Premium Software Plan! Use coupon 7BAI8
---
calendarexpress.com
"I forgot" is a flimsy excuse for children to use when trying to get out of homework, and downright unacceptable when it comes to paying taxes. Your readers should do the responsible adult thing instead: order a Hello Kitty wall calendar from calendarexpress.com and mark April 15th on their calendar in big, bold letters. It'll be quite difficult to forget them then.
Free Shipping all month when you spend $50 or more. Enter code FREEAT50 at checkout. Valid through 4.30.16. 
---
Audit your advertising options and promote these Tax Day deals available via the FlexOffers.com network today!