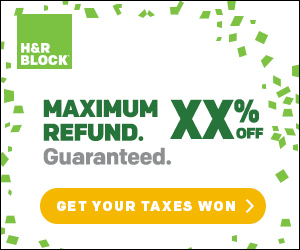 As the deadline for your readers to file their federal tax returns in the U.S. is on Tuesday, April 17th, now's the time to load your landing page with links to help them get their finances in order.
Capitalize on these enticing Tax Day 2018 savings now available on FlexOffers.com!
---
H&R Block offers your audience members multiple ways of filing taxes to ensure they'll find the one best fit for their specific circumstances. They also feature a variety of ways for individuals to receive their refund, be it via check, direct deposit, or an H&R Block Emerald Prepaid Mastercard®.
Up To $35 Off H&R Block Online Products!
---
Backed by a $100k accuracy guarantee and trusted security safeguards, it's no wonder so many people turn to TaxAct to file their federal tax returns. Adding to that peace of mind is a price lock guarantee, free technical phone support, and 7 years of access to returns – a feature that some competitors usually only offer with the paid, premium versions of their services.
20% Off TaxAct Premium Federal & State Returns
---
There are still a few days left for your web traffic to get their maximum refunds through the TaxSlayer affiliate program. Simple, secure, and accurate, they also feature a robust FAQ database where filers are likely to find the answers to even their most pressing tax questions.
TaxSlayer Self-Employed Edition only $55 for Federal & State Return
---
Any of your patrons who still have multiple shoeboxes full of receipts that they have to organize in order to claim as deductions on their federal tax returns can get their act together using the automated bookkeeping and organizational software sold through neat.com. Using this software centralizes important information and reduces the potential risk of an audit- which no one ever wants to endure.
Our Tax Season Sale Is Here! Save $20 On A Premium Plan. New Customers Only. Discount will be applied at Checkout. Ends April 30
---
After filing their taxes, with their financial future on their mind, your patrons may want to turn to the Finhabits – Funded Account affiliate program. Thanks to Finhabits' reliable technology-based infrastructure, they'll be able to open simple investment accounts (taxable) or traditional or Roth Individual Retirement Accounts (IRAs) as a means of planning for their retirement.
Start saving for your retirement today! It only takes ten minutes to open an IRA
---
Once your site visitors have sorted the stacks of receipts they've been keeping all year and properly filed their federal tax returns, a proper vacation is in order. At ihg.com, they'll be able to reserve a room at any of over 5,000 properties in nearly 100 countries worldwide. A spontaneous trip to Tahiti this (or any) time of year will do wonders for revitalizing one's state of mind.
Book early and save up to 15% with Your Rate. The best deal, plus all the benefits you love when you book directly with Holiday Inn Express.
---
Maximize the profitability of your website by marketing these Tax Day 2018 savings via the FlexOffers.com network today!