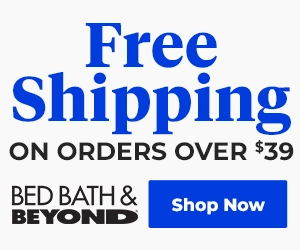 Putting together an epic Thanksgiving feast for friends and family can easily put a strain on one's budget. However, dinner planners can now keep their visitors' taste buds satisfied without deviating from their spending plan. Grant Thanksgiving dinner hosts access to bargains from renowned retailers that prevent them from overextending themselves by promoting these terrific Thanksgiving dinner savings now available on the FlexOffers network!
---
Nothing screams Turkey Day like Thanksgiving décor and through the Bed Bath & Beyond affiliate program, can choose from over 380 decorative pieces and plating that captures the essence of the holiday. BedBathAndBeyond.com also has a bevy of picture frames, shower curtains, and floor mats available to be personalized with an inscription of their family's name. During Bed Bath & Beyond's Thanksgiving sale, potential purchasers can receive free shipping on orders greater than $49.
Shop for Thanksgiving at Bed Bath & Beyond! Featuring a Great Product Selection and Free Shipping on Orders Over $49!
---
The Thanksgiving turkey is the centerpiece of a Thanksgiving meal and making sure the turkey is seasoned and cooked to perfection can be a stressful endeavor. Thankfully, OmahaSteaks.com, Inc. offers ready-to-cook turkey, teeming with flavor Turkey Day observers will assuredly love. By purchasing a turkey at OmahaSteaks.com, entertainers will be afforded the opportunity to spend less time preparing Thanksgiving dinner, and more time enjoying the company of their loved ones.
40% Off Sitewide & Free Shipping on Orders Over $59!
---
Once all the savory dishes have been consumed, the sweet-toothed invitees among your audience will certainly be in search of confections that satisfy their hankering for dessert. Fortunately, Cheryls.com offers a wide variety of samplers comprised of cookies, brownies, and gourmet pretzels equipped to deliver the sugar rush your site visitors desire. For a limited time at Cheryls.com, shoppers can enjoy 15% off when they use promo code TAKE15 upon checkout.
Enjoy 15% off Thanksgiving Gifts at Cheryls.com! Promo Code: TAKE15 (Valid 10/28 – 11/17)
---
After downing copious amounts of food during Thanksgiving, your page viewers will likely be drifting in and out of a food-induced haze, rendering them incapable of capitalizing on Black Friday promotions. Through the illy caffe affiliate program shoppers can receive the energy boost they need to go dashing through the aisles of their local stores by purchasing its Ground Espresso Intenso. illy caffe's Ground Espresso Intenso is a bold roast that possesses undertones of cocoa, dried fruits, and approximately 60 milligrams of caffeine per oz.
Save up to 40% on coffee & espresso machines available for a limited time only.
---
Cutting a Thanksgiving turkey with an inferior knife typically shreds the meat and ruins the skin but with a WUSTHOF classic two-piece carving set from Sur La Table, that no longer has to be the case. The WUSTHOF two-piece carving set features a hallow-edged carving knife and a carving fork. The WUSTHOF knife was created in consultation with professional chefs to facilitate the design of a blade that's equal parts precision and elegance.
Shop up to 60% off select Knives and Knife Sets from Global, Wusthof, Zwilling and more at Sur La Table! Valid thru 10/28
---
A glass of wine oftentimes serves as an excellent accompaniment to a Thanksgiving dinner, and if your web traffic would like to dazzle their guests with their wine selection, then they needn't look any further than Wine.com. At Wine.com, Thanksgiving party-givers can peruse over 10,000 different vinos to select the perfect beverages for their gathering. Customers can narrow down their search by filtering the type of wine, its region, rating and most importantly – price.
It's Not Too Early to Stock Up and Save for Thanksgiving
---
Capitalize on these terrific Thanksgiving dinner savings now available on your landing page via FlexOffers.com today!