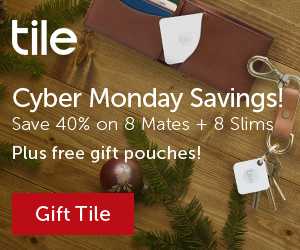 Between crowded shopping malls and busy airports, there are plenty of places where your readers can misplace their valuables this winter. With a Tile Bluetooth tracking device, though, they'll be able to locate their cherished items quickly and save time.
Save the holidays by promoting these deals available from Tile via the FlexOffers.com network!
---
Save up to 35% on the Gift Bundle 8-pack and get free gift pouches!
Save on the Gift Bundle 8-pack and get free gift pouches!
---
Tiny and powerful, Tile trackers are convenient tags that can be attached to purses, luggage, bookbags, key rings, or any number of items. Should the item get misplaced or stolen, the easy-to-use Tile app gives users the ability to locate it, fast. All it takes is a single button press to cause the attached Tile to ring if it is within 100 feet of a user's location.
If you've ever lost your home or car keys, Tile can save minutes (if not hours) spent combing an area over and over. With the app running in the background, Tile will record the last place that an item was seen, which reduces the search area and produces results. Just think about how much time you would have saved over the years if you had a Tile handy.
---
Tile is a tiny Bluetooth tracker that finds your keys, wallet, phone, anything. Shop now and save up to 35%.
Download the Tile app for free
Lose less of everything, including your valuable time with Tile
---
Giving others a Tile during the holiday season shows that you hold their time in high regard. As a stocking stuffer or attached to a more expensive gift like a designer clutch, Tile's tracking capabilities shine during frantic times. Current savings on individual Tiles and 8-packs makes this a very affordable Cyber Monday shopping option.
Audience members of yours who have children at home know all too well how easy it is to lose their cell phone, keys, or a favorite toy that keeps little ones calm. Through the use of a Tile device, parents will be able to find everything that they need to toss into the car in order to maintain their schedule and sanity. Tile also works for outdoor toys like bicycles and scooters that may be accidentally left behind at a park or on someone's lawn during a playdate.
---
---
Help your patrons save time and money this Cyber Monday by promoting these enticing deals from Tile through FlexOffers.com today!