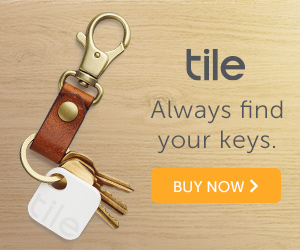 Tile Bluetooth trackers are as essential for a spring break trip as sunscreen and a boarding pass to the tropics. Considering how often your readers already misplace their valuables, being able to locate them using a Tile can be the difference between a memorable vacation and one they'd rather forget.
Take advantage of these enticing Tile deals, available to promote now on your website via FlexOffers.com!  
---
Tile is a tiny Bluetooth tracker that finds your keys, phone, anything. Shop now and save up to 35%.
Find your phone, keys, anything with Tile – Click Here.
Download the Tile app for free
---
Any of your audience members gearing up for a wild spring break with their co-ed counterparts will definitely want to take a few Tile along. Sold in the original Tile Mate and thinner Tile Slim varieties, all it really takes is a few minutes to find an item that these trackers are attached to. Utilizing the free Tile app on an internet-ready device like a smartphone or tablet, users will be alerted to the whereabouts of their items far faster than a frantic search would.
Consider how easy it would be to misplace your keys by the pool or a purse at a nightclub, then reconsider the true potential of a Tile. A little foresight today will save lots of time and stress in the very near future.
---
Find more of everything, including your valuable time with Tile.
Stop Losing Your Stuff Now with the Tile App
Lose less of everything, including your valuable time with Tile.
---
Families of all sizes will be pleased that they've attached a Tile to their keys, wallets, diaper bags, and anything else that little ones may be able to get a hold of. All it takes is a bellowing child to act up and toss a set of keys out of a moving vehicle window one time for parents to regret not having a way of easily finding them.
Likewise, curious kids with a knack for playing hide and seek are a real reason to buy a Tile 8-pack. Even if children mean well when they hide their parent's valuables to find later, the frustration of locating them remains. Using the Tile app, finding items that have been misplaced at home, in a vehicle, and especially while on vacation becomes… child's play.
---
---
Help your site visitors stock up on these invaluable time-saving devices by promoting the Tile affiliate program on your landing page through the FlexOffers.com network today!