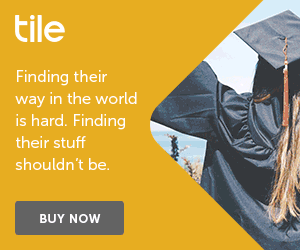 Life can be hectic for dads and new high school and college graduates alike, which is why Tile Bluetooth trackers make such great practical gifts for the lot of them.
Check out the current enticing offers available to promote on your site from the Tile affiliate program below, now on the FlexOffers.com network!
---
Give dad the gift of Tile and get a free gift box with multipack purchases!
Get dad something he will use – a Tile Mate! And get yourself 35% off.
Save up to 35% on the Tile Mate and Get a Free Gift Box!
---
Between shuttling the kids to school, heading to work, and making repairs around the house, there are plenty of opportunities for dads to misplace their valuables. Utilizing the free Tile smartphone app, though, they'll be able to pinpoint the location of any item their Tile is attached to- it's that easy.
Should a shiny set of house keys happen to catch a toddler's attention and then get tossed aside, the Tile app can send a signal that makes the attached Tile audibly ring. Conversely, if a little one gets caught up watching YouTube videos on dad's smartphone and forgets where they left it, a press of the Tile on dad's keychain can locate the device- even if the ringer is set on silent. How utterly convenient is that?
---
Save up to 35% on the Tile Mate – The Perfect Graduation Gift!
Save up to 40% on Tile Combo Packs
---
While college campuses are intended to be bastions of higher learning, for many students they're also, quite frankly, party central. If you've ever found yourself in a haze of joy following a football game or party with classmates, then you know how easy it can be to lose your wallet, purse, or keys. Sometimes, all of them at once. Once again, it's Tile to the rescue.
Now let's say that a Tile owner has misplaced the keys to their dorm room and their RA is nowhere to be found. Aside from finding a quiet corner of the library to doze off in, said student could utilize the crowdsourcing power of the Tile app to find their keys within minutes. Anyone that has downloaded the (FREE) Tile app onto their smartphone or tablet pings nearby Tile and Tile Slim trackers that have been marked as lost. That information is then relayed back to the Tile's owner, who simply follows the map on their smartphone to get within range. Once nearby, a press of a button sets the Tile off and reunites it with its rightful owner. Students and parents tired of replacing lost valuables can't afford not to utilize a Tile to its fullest potential.
---
---
At any stage in life, the ability to quickly find lost items is useful and will be greatly appreciated. As such, you can't go wrong with promoting the Tile affiliate program and their offers available via FlexOffers.com on your website. Make the most of these deals on gifts for dads and grads today!