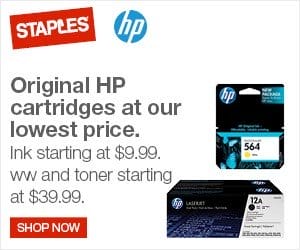 The first day of school is just around the corner and many students are still in need of electronic devices capable of helping them reach new heights in the realm of academia. Provide your page viewers markdown pricing on merchandise that facilitates their success this school year by promoting these time saving back to school tech discounts now available on the FlexOffers network today!
---
Finishing an assignment only to realize it can't be printed off at home thanks to a lack of ink or toner can be a colossal waste of time. With Staples, young scholars can avoid trips to their local electronics store by scheduling auto restock orders at Staples.com. If your customers don't use their home printers frequently enough to benefit from Staples' auto restock options, they can still receive 10% off ink and toner multipacks, and free next-day delivery at Staples.com
Save up to 10% when you buy Ink & Toner multipacks at Staples®. Shop now!
---
If the parents among your audience believe their child's progress in school is contingent upon the ability to eliminate distractions, then they needn't look any further than the Tello | Mobile affiliate program. Tello | Mobile allows its users to construct their own phone plan or choose from its ready-made deals to find a plan that perfectly suits their lifestyle. At Tello.com, subscribers can begin upgrading or downgrading their plan to configure the perfect amount of data to ensure the continued success of their school-age child.
Get 15% OFF Tello's Custom Plans w/ Promo Code: 15OFFFOF
---
Excelling in the classroom takes a great deal of hard work and dedication, and students should have laptops capable of working just as hard as they do. Thankfully Lenovo USA offers ThinkPad A Series laptops that deliver multitasking power through its AMD PRO processors to match its users' scholastic endeavors. For a limited time at Lenovo.com, cost-conscious consumers can save up to $600 off back to school PCs and add a select accessory for a penny with coupon code EXTRA5.
Up to $600 off Back to School PCs + Add a select accessory for a penny! Use code EXTRA5
---
Acquiring a virus on a personal laptop or PC can bring one's production to a screeching halt. By purchasing Malwarebytes, your web traffic will be privy to comprehensive security equipped to prevent malware and hackers from rendering computers useless. Malwarebytes can be used to shut down cyber attacks from every angle and platform as its services are equally effective for Windows, Mac, Android, and IOS users.
---
Solving math equations by hand is sometimes required by teachers and professors, but on occasions, it isn't, your site visitors could purchase calculators from Office Depot and OfficeMax to do the thinking for them. At OfficeDepot.com, future mathematicians can save up to 30% off Office Depot exclusives such as Texas Instruments TI-84 Plus CE graphing calculators to help them save time on homework assignments and exams.
30% Off Office Depot Exclusive- Texas Instruments® TI-84 Plus CE Handheld Graphing Calculator
---
Parents perennially spend their hard-earned money on school supplies for their children. If their child has routinely displayed, they can't keep up with their belongings, moms and dads can still protect their investment when you promote the Tile affiliate program on your landing page. With Tile, your patrons can keep tabs on their things through its GPS tracking and intuitive app that helps them find misplaced items near and far.
Hurry now and save 50% on Tile Combo Packs during the Back to School Sale!
---
Market these time saving back to school tech discounts now available on your landing page via FlexOffers.com today!