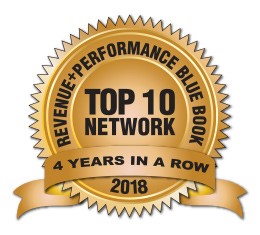 For four years and counting now, FlexOffers.com is a Top 10 affiliate network in the mThink Blue Book survey!
After cementing our standing in the mThink Blue Book Top 20 Affiliate (CPS) Networks survey last year, our team strove to not only stay in the Top 10 but rank even higher in 2018. Based on the results that have just been published, it looks like our mission has been accomplished.
---

---
2017 was a year of exponential growth for FlexOffers.com. Between constantly improving our PublisherPro platform to exceed our publishers' expectations and fostering profitable relationships with some of the top advertisers our industry has to offer, we've not stopped working towards our goal of being the very best. Our team has gone global as well, with multiple offices opening across the state, country, and the world.
We are thankful for the consistent support we received from our publishers, advertisers, and team this past year. Without your dedication and tenacity, we would not be the leaders we are today, standing shoulder-to-shoulder with our peers in the affiliate marketing industry.
Thanks are also due to mThink Blue Book for recognizing our hard work and providing us with another benchmark goal to hit in 2019 – being the very best affiliate marketing company on their Top 20 Affiliate (CPS) Networks survey. With the new relationships we're creating and key team members that were brought on board, all the pieces are in place for that plan to become a reality.
The sky's the limit in 2018 for FlexOffers.com, and we intend on pushing past that too.