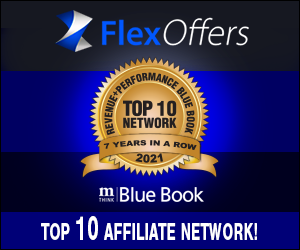 After landing in the No.7 spot of the 2019 and 2020 mThink Blue Book Top 10 Affiliate (CPS) Network Survey, FlexOffers.com is pleased to announce that we are now ranked No.6, thanks to the support of our esteemed colleagues! As a result of our 6th place finish in the 2021mThink Blue Book Top 10 Affiliate (CPS) Network Survey, we have now been voted by our peers as one of the top 10 affiliate networks, seven years running!
---
The team at FlexOffers.com is honored to be rated No.6 in a worldwide survey. However, we remain keenly aware of the fact that we could have never accomplished such a magnificent feat without the help of our contemporaries. As a show of gratitude for the resounding approval of services reflected in the 2021 mThink Blue Book Top 10 Affiliate (CPS) Network Survey, our knowledgeable team will continue polishing its platform to fulfill the needs of its users. FlexOffers.com understands the importance of continued strategic expansion of products and services, and we promise to perpetually pursue new processes that facilitate growth in the affiliate marketing sphere.
While 2020 brought forth a great deal of challenges (including a global pandemic), FlexOffers.com has continued to expand its reach due in large part to its experienced staff. The team at FlexOffers.com was able to establish a variety of novel yet rewarding relationships both domestically and abroad. The FlexOffers.com technical department has also played a critical role in the construction and augmentation of new applications and widgets that enable us to render services publishers and advertisers have come to know and love.
FlexOffers.com would again like to recognize our valued supporters who have regularly advocated on our behalf. We are devoted to the practice of continuously seeking measures to better serve our publishers and advertisers. Our openness to process melioration has enabled us to establish and maintain a multitude of productive partnerships in 2020, and we're excited about the prospect of improving upon this year's success in 2021.
The FlexOffers team would also like to thank mThink Blue Book for providing a platform for us to be nominated and eventually named the No.6 affiliate network in the world. By way of performance upgrades made to our Publisher Pro application and the broadening of the FlexOffers' enterprise, FlexOffers.com is poised to help bring publishers and advertisers closer to their dreams and aspirations in 2021.
FlexOffers.com aspires to forge a myriad of long-lasting relationships in 2021 and we remain steadfast in our quest to become the No.1 affiliate network in the world.