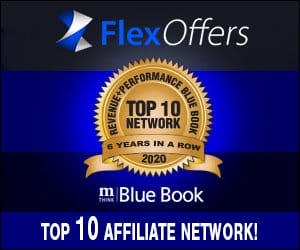 FlexOffers.com is thrilled to be recognized by our partners and peers as one of the Top 10 affiliate networks in the mThink Blue Book survey for the sixth year in a row!
The FlexOffers.com team takes great pride in developing fresh new offerings that are perennially lauded by publishers and advertisers. Our platform is ever-evolving to better serve our colleagues, evidenced by the ringing endorsement we received during the mThink Blue Book Top 10 Affiliate (CPS) Networks Survey. Thanks to your vote, FlexOffers.com has claimed the No.7 spot for the second consecutive year, and we continue to work diligently to reach greater heights within the affiliate marketing space.
In 2019, we continued to grow our consumer base through the expansion of our well-practiced personnel. By bolstering the FlexOffers.com team, we've been able to broker a bevy of brand-new and highly profitable partnerships around the globe. FlexOffers team members have also been instrumental in the creation and enrichment of digital tools that facilitate our quest to provide supreme services to our valued supporters.
FlexOffers.com would like to extend a huge helping of gratitude to our esteemed publishers and advertisers who have championed our affiliate network over the years. By way of our commitment to excellence and willingness to renew and refine services that ensure the success of our patrons, we aim to establish an abundance of fruitful relationships in 2020.

Once again, we would like to thank mThink Blue Book for this prestigious honor and we remain excited about the prospect of improving our reach. Through digital developments and organizational expansion, FlexOffers.com is destined to achieve the above-mentioned aspirations in 2020.
Our commitment to reach the top spot remains stronger than ever and we look forward to cultivating a multitude of rewarding connections in 2020.